Our branch launched a new initiative in 2014 to inform, address and assist groups working to combat human trafficking.  The Branch Meeting, January 24, 2015, topic Human Trafficking — Here, There and Everywhere Reston Community Center, Lake Anne,  continues our focus on raising awareness on a scourge right here in our community. The film Not My Life which exposes modern human trafficking and contemporary slavery,  was followed by remarks from Susan Conway, International Justice Mission, and Suzanne Pigg, Shelter House/Artemis (Herndon),  active in helping victims, usually women and girls, escape.  This was a joint meeting with National Council of Negro Women (NCNW)(our partner in the 2014 meeting), Giving Circle of Hope, who provided refreshments,  the Sisterhood of Northern Virginia Hebrew Congregation and Reston Lions Youth.
Human trafficking has emerged as one of the fastest-growing criminal activities in the world. Virginia ranks  number five nationally. Last year's speaker represented the Northern Virginia Task Force which has received one million dollars in grant money to combat trafficking.  A Human Trafficking issues letter from Caroline Pickens, Past President of AAUW of Virginia (Fairfax Times), outlines state deficiencies in victim assistance and statutes.
Checks were presented to Susan Conway, International Justice Mission, and Suzanne Pigg, Shelter House/Artemis (Herndon), from the $101 in funds raised to assist Human Trafficking victims by the Herndon Community Leo Club's caroling fundraiser during the Hindu Holiday of Diwali. As part of the caroling the girls handed out fliers to raise awareness about the issue of human trafficking. The Leos are high school and middle school students engaged in the Reston Lions Club purpose of community service and leadership. View a pictorial of this Human Trafficking program.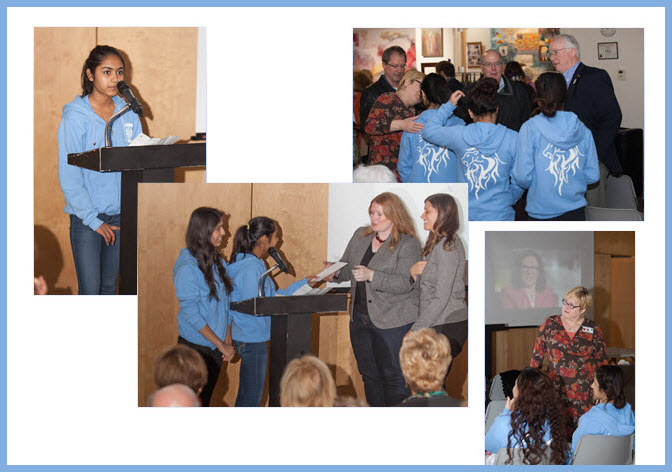 Top left: Aakriti Poudel. Top right : Adult Lions are Anne Ryan, Don Leas, President, Jack Gazlay, Treasurer and Jim Ryan, District Governor of Lions District 24-A (Northern Virginia); girls with their back to camera are Sujata Shakya, Sammy Shreshta and Subani Adhikari. Mid page (L to R) : Surabhi Khanal and Aakriti Poudel present checks to Susan Conway and Suzanne Pigg. Bottom Right: Anne Ryan. Photos by Mike Savage.
Several dozen signatures were added to the petition we'll present to Virginia lawmakers on Feb. 4 urging them to strengthen State laws providing assistance to human trafficking survivors, including creating 'safe harbors' for sexually exploited minors. A van full of donations was provided to Shelter House.
We can continue to help:
 Donation information is provided, so attendees can bring materials to support Shelter House.
To report, find services, or request training, one can contact 18883737888, the toll-free 24/7

National Human Trafficking Resource Center (NHTRC)

 hotline, communicating in more than 200 languages. The NHTRC is a non-profit, non-governmental organization working exclusively on the issue of human trafficking.
Sign the AAUW safe harbor legislation petition online on our web site.  Virginia has scant help legally for victims. A Virginia zip code and name are all that's needed. Signing deadline is the end of January to be ready to present in Richmond on Virginia Lobby Day February 4. Please share the link through social media or in person as soon as possible.  Your presence will make a point at Lobby Day so please plan to attend the presentation; carpools will be forming.