State Spotlight: Virginia AAUW Members Meet with Governor, Lt. Governor on Lobby Day
Update: Virginia Human Trafficking Bill Passes both Houses.
At the annual AAUW of Virginia Lobby Day, Feb. 4, 2015, twenty AAUW members met with Gov. Terry McAuliffe and Lt. Governor Ralph Northam to deliver  a 1,200-signture petition signatures supporting increased assistance to human trafficking survivors. (See report of our Human Trafficking program.) Attending were Reston Herndon branch members pictured below: Row 1, far right: Maureen Dwyer, then Jackie Gladstone; Row 2, far right: Judy Helmich, Cyndi Shanahan, Rachel Gladstone. Governor's 1st left, Leslie Tournigy, VA AAUW Public Policy VP and his 2nd right, Caroline Pickens, Northern District co-representative.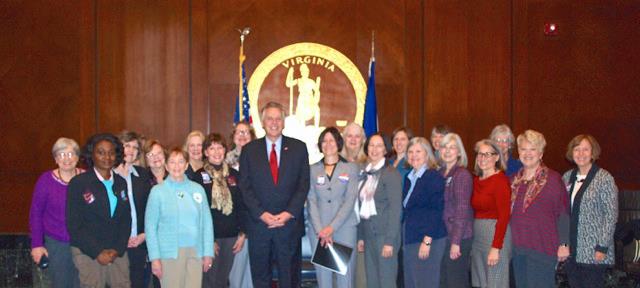 In a 30-minute sit-down with the governor, they also discussed campus sexual violence and equal pay. The lobby day also included a meeting with the VA House Speaker's chief of staff in which they delivered the petition and discussed campus sexual violence and Medicaid expansion; individual meetings between AAUW members and the elected officials for their districts; and formal recognition of AAUW of Virginia in the galleries of both houses of the General Assembly. Congrats to AAUW of Virginia members on a successful day!