The AAUW Reston-Herndon Branch is proud to announce that planning is underway to celebrate the 50th Anniversary of the Branch thanks to the tireless efforts of event co-chairs, Judi Ornoff and Marion Stillson. Both Judi and Marion are former branch presidents (Judi served twice and Marion was also our VA state president) and active participants in many AAUW-related activities at all three levels during their tenures with the R-H branch. We are so fortunate to have their leadership in planning this recognition.
Our celebration is scheduled for Sunday, April 28, 2019,  so put this important date on your calendar!
50TH ANNIVERSARY CELEBRATION
SUNDAY, 

APRIL 28

, 

2019
WILDFIRE RESTAURANT ~ TYSONS GALLERIA
12:00 PM
More details about this event, which will feature a luncheon, program and other surprises, will be forthcoming so WATCH THIS SPOT for continued updates.
HELP!  If you are willing to assist our co-chairs with any part of the planning, please contact Marion at Mbs@point0.Net or Judi at judiornoff@gmail.com. They would very much appreciate the help! Some excellent archival materials from members have surfaced and are being examined by Past President, Gail Osberg. We are looking for branch members (or others) who would be willing to assist Gail with the technical aspects of coordinating the material. This is a wonderful one-time opportunity to contribute to the branch if you are busy, working or travel a lot.  If you, or someone you know, is willing to assist Gail, please contact her at ghosberg@yahoo.com . The branch appreciates the thought, time and effort Gail has put into this aspect of the event.
Although we chose an April date to celebrate, hoping for nice weather with no cancellations, the AAUW Reston Branch was actually officially chartered on February 14,1969. "In October of 1968, a group of interested women had first indicated their intent to form a branch in this area. Almost immediately after chartering, the first president had to resign due to ill health , so Barbara Naef became our Acting President until new elections  [were held] at the business meeting in March 1970, at which time Dr. Jo Bloom was elected. Margaret Keaney succeeded her in 1971. Although the branch grew  slowly, it was committed to on-going concerns of AAUW from its inception. Only three month after chartering, we sponsored our first used book sale for the EFP Fund [Education Foundation Programs] at the Reston Festival."
(Excerpt from "Reston, VA. Branch – Our First Ten Years" by Judy Bates, Martha Nagle and Gail Osberg, pub 1979) .
Below is the original charter document approved by the new officers: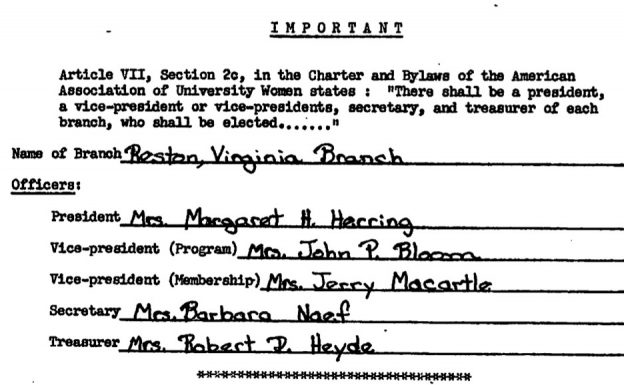 We promise an excellent fun-filled, nostalgic and exciting Anniversary Celebration and hope that everyone from our branch who is able will attend.
MORE TO COME!