A gala celebration was held on April 28, 2019, to commemorate the 50th anniversary of the AAUW Reston-Herndon Area Branch at  Wildfire Restaurant (Tysons Galleria, VA) with a wonderful luncheon and program.
Special thanks to event co-chairs, Judi Ornoff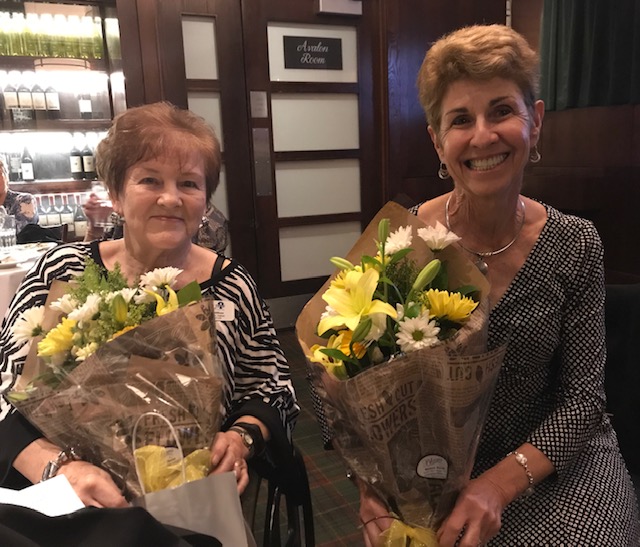 (right in photo) and Marion Stillson (left) for their the tireless efforts which resulted in a delightful afternoon of reconnecting and reminiscing with present and past members. Judi and Marion are former branch presidents, Judi served twice, and Marion was also our AAUW-VA state president and served in several capacities at the national level.
THE ANNIVERSARY LUNCHEON was held on Sunday April 28, 2019, from 12:00 – 3:30 p.m. After a fun-filled hour of socializing, perusing  the 13 "time-travel" displays created for this event and reconnecting with friends, Judi Ornoff, event co-chair, opened the program with a warm welcome. Judi recognized the many past-presidents and guests in attendance. President Dianne Mero brought greetings from the branch and shared a personal commendation message and a Certificate of Honor from AAUW CEO Kim Churches. Leslie Tourigny, AAUW-VA state Co-president, presented a delightful congratulatory message from the State. Dianne gave a heartfelt toast to the branch and its continued success. After a delicious family style luncheon, Marion Stillson, co-chair, introduced Keynote Speaker, Senator Jennifer Boysko, who gave an inspiring message about empowering women and how this issue has touched her personally. Dessert was served accompanied by a very interesting and entertaining slide show covering the 50 years of the branch produced by Judi Ornoff. Marion Stillson introduced two "founding mothers" of our branch, Gail Osberg and Barbara Naef,  who shared reminiscences about the earliest days of the branch. Dianne closed the program with a look ahead and expressed sincere appreciation on behalf of the branch to all who made such a wonderful afternoon possible. An "All Presidents" photo was taken by branch member John Lovaas and Programs VP, Judy Skirbunt, They also took numerous photos during the event, as did several other guests. (To view some of the pictures, please see the "Photo Album" tab under "About Us" on this Website Homepage.)
BRANCH HISTORY – Although we chose a date in April to celebrate, hoping for nice weather with no cancellations, the AAUW Reston Branch was officially chartered on February 14,1969. The description of the establishment of the branch can be found in branch records:
"In October of 1968, a group of interested women had first indicated their intent to form a branch in this area. Almost immediately after chartering, the first president had to resign due to ill health , so Barbara Naef became our Acting President until new elections  [were held] at the business meeting in March 1970, at which time Dr. Jo Bloom was elected. Margaret Keaney succeeded her in 1971. Although the branch grew  slowly, it was committed to on-going concerns of AAUW from its inception. Only three month after chartering, we sponsored our first used book sale for the EFP Fund [Education Foundation Programs] at the Reston Festival."
(Excerpt from "Reston, VA. Branch – Our First Ten Years" by Judy Bates, Martha Nagle and Gail Osberg, pub 1979).
1969 BRANCH CHARTER – Below is a copy of the original charter approved approved by the new officers: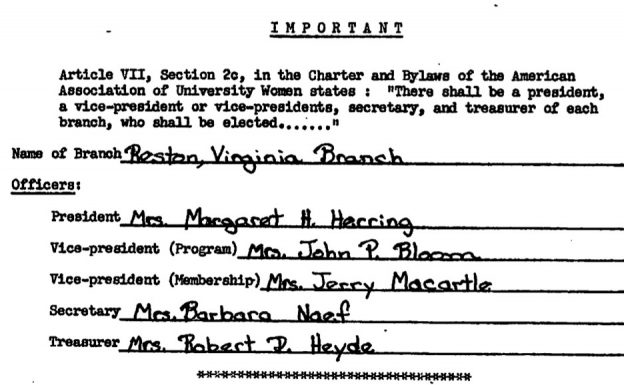 50 YEARS OF HIGHLIGHTS BY THE DECADE – Gail Osberg, currently the Reston-Herndon Area Branch member with the most tenure, joined the AAUW Reston Branch on July 1, 1971. Gail, a retired librarian, researched and gathered a list of the branch "highlights," by decade as one of the 50th anniversary activities. The product, "50 Years of Highlights, by the Decade," was made into an interesting and informative display by Marion Stillson for the luncheon and is reproduced below:
RESTON-HERNDON AAUW — 50 YEARS IN THE MAKING
1969
The Reston Branch of the Virginia Division of AAUW was chartered in February of 1969 with 15 women joining at the outset. They met for meetings at the Common Ground, a Lake Anne Plaza building.
1970s
"Book Discussion Group" and "Bridge" were the most popular interest groups. In the fall of 1972, members of the Branch Executive Board experienced a period of disagreement with each other and disillusion about lack of attendance at Branch meetings. As a result of inharmonious discussion during the executive board meetings, they voted to disband the Branch and notified the state president of the division, Vera Huckel, from the Tidewater area. She promptly called on leaders from the McLean, Springfield/Annandale and Falls Church Branches to meet with Reston members who wanted the Branch to continue. We met with leaders from the three branches and decided to begin again by holding our monthly meetings in members' homes. This was successful and in March of 1973 Gail Osberg was elected president with Judy Bates as Program Vice President and Lyn Kagey as Membership Chair. In 1975 the Reston Branch was one of the host branches for the State Convention held in the Tysons area. The State Convention in 1978 saw several of our Branch members either elected or appointed to the state board, including Gail Osberg as Corresponding Secretary, Judy Bates as Recording Secretary and ERA Coordinator, and Nadine Van Orsdel as Public Policy Chair.
The "Used Book Sale" held during the annual Reston Festival was our main fundraiser for the Educational Foundation, including one year when one of our members loaned us their brand new, never used, horse trailer to serve as our used book store. During the 1970s our Women's Study Group researched and made available a "Bibliography of Non-Sexist Books For Children." Many Branch members also researched and published a "Community Guide to Public Schools" serving Reston students.
1980s
The Connection newspaper published, with the Reston AAUW Branch and other Northern Virginia branches, information on how to "Connect and interact with the Fairfax County School System." In the Spring of 1981, our Branch was again one of the host branches for the AAUW-VA state convention. June of 1981 saw eight Reston Branch members attend the 100th Anniversary of the American Association of University Women in Boston. U.S. Senator Ted Kennedy was our Keynote Speaker. We participated in Bylaws meetings, Public Policy discussions, as well as attending a Pops Concert by the Boston Symphony. During this decade, our Branch worked with other organizations to prevent the Disney Company from constructing one of their amusement parks next to the Manassas Battlefield National Park and were successful in this effort. As State Board Technology Chair, Gail Osberg had the opportunity to attend a 2-day working conference in San Francisco with 49 other AAUW state technology chairs to learn to use computers.This was brand-new information for most of us in 1983 and there were many questions and much discussion among us before information was passed to local branches in each of our states. At their request, our Branch presented one of their monthly programs to the Culpeper Branch in the form of a "dramatized manifesto" advocating ERA. National AAUW provided the script; we provided 6 live presenters. Irene Schiffman, Reston-Herndon Branch President, moved at the state convention for AAUW-VA to boycott the Commonwealth by refusing to hold future state conventions in Virginia until it adopted ERA. Her motion was adopted enthusiastically. We held our next Virginia state convention in Maryland!
1990s
Our Branch was asked to nominate a local teacher to compete for the AAUW-selected Teacher of the Year. We chose Linda Monfort, a Math teacher at Franklin Intermediate School, who was selected as state winner. Marion Stillson was elected State AAUW President. As a fundraiser for the Association's Educational Foundation, we added a "Silent Auction" to our Holiday Luncheon. In March of 1993, we established our first GEMS educational program for 5th and 6th grade girls in Reston and Herndon schools to learn about science, technology, and math. We wanted to show them how these are exciting subjects, why it is important to learn them, and what these subjects can do for them both now and as they grow older.The Branch board began to discuss the idea of members participating in the "Adopt a Spot" highway cleanup in the Reston area. The Branch board also began discussing the idea of changing our Branch name to Reston-Herndon Area. Voting on this issue occurred at our spring Annual Business Meeting. In May, 1994, the state board approved the change and we celebrated both our new name and our 25th anniversary at our spring picnic. 2000-2009
A "Daytime Book Discussion Group" was established, as well as a Facebook page for our Branch. We were, again, one of the hosts of the state convention held at the Fair Lakes Hyatt. Our Branch began our first Mentoring Program at Forest Edge Elementary School in Lake Anne. The program was for girls in grades 3-6 who were selected by a school counselor, a teacher, or self-selected by the student. Marion Stillson was elected the AAUW's Director of Public Policy. A group of Branch members began quarterly cleanup of the Reston pathway system near Wiehle Avenue. This Adopt a Spot effort is sponsored by the Reston Association which provides trash bags, protective gloves, and the collection of the bags. In 2008, one week before the Presidential election, our Branch hosted a visit of five Russian economists who were here to observe the election. They came under the auspices of an organization that is under the Library of Congress. The three women and two men were hosted by our members, visited with members of the Virginia General Assembly and local officials, and visited South Lakes High School. They were also able to attend the final campaign rally held by Candidate Barack Obama to see history being made. We were able to provide the funding to present awards to female graduating seniors from both South Lakes High School and Herndon High School.
2010-2019
In 2010 and 2016, our Branch was again one of the host branches for the AAUW-VA state convention held at the Dulles Hyatt. Marilyn Silvey, a longtime mentor at Forest Edge Elementary, heard from one of her first mentees, who let Marilyn know that she had just graduated from college. The Branch continued to hold an annual meeting with the Dulles Section of the National Council of Negro Woman. "Member Helping Member" was established by using member contributions to assist members who need financial help in affording branch dues or activities. The Reston-Herndon Area Branch has now established a presence in the area and actively recruits new members from the Loudoun County areas of Ashburn, Leesburg, and Sterling. In 2019, the Branch counted among its members, those from fourteen different Northern Virginia communities.
April 28, 2019 – The 50th anniversary of the branch was celebrated with a gala luncheon held on Sunday, April 28, 2019, from 12:00 to 3:00 pm. at Wildfire Restaurant, Tysons Galleria, VA. 
.