The AAUW Reston-Herndon Branch Book Groups are open to all members.
These lively and well-attended groups meet in afternoon and evening sessions each month. The afternoon meeting is held at 2:15 p.m. on the fourth Wednesday of the month at the Herndon Senior Center. The evening group meets at 7:00 pm. on the fourth Thursday of the month at Scrawl Books on Freedom Drive in Reston Town Center. The same book is discussed at both the Wednesday afternoon and Thursday evening groups.
Members have input into what will be read for the year from a large selection list suggested by group members and the group coordinators. The final list each year always includes one selection from the AAUW Adelante Books of the Month list.
Book Selections for 2017- 2018:
July                                   TransAtlantic by Colum McCann
August                             The Lynching The Epic Courtroom Battle that Brought
                                           Down the Klan by Laurence Leamer
September                      Commonwealth by Ann Patchett
October                           The Last Days of Night by Graham Moore
November                                –       No Meeting      –
December                       Homegoing by Yaa Gyasi
January                           Hillbilly Elegy by JD Vance
February                         A Gentleman in Moscow by Amor Towles
March                              Senator Hattie Caraway: An Arkansas Legacy by Nancy Hendricks
April                                 Manhattan Beach: A Novel by Jennifer Egan.
May                                  Anything is Possible by Elizabeth Strout
June                                  In the Language of Miracles by Rajia Hassib
July                                   The Handmaid's Tale by Margaret Atwood
August                            Clementine: The Life of Mrs. Winston Churchill
September                     The Girls by Emma Cline
October                          The Outskirts of Hope by Jo Ivester
November*                             –       No Meeting     –
December*                    A Column of Fire by Ken Follett
 *We do not meet in Nov and meet on the FIRST Wednesday and Thursday in Dec.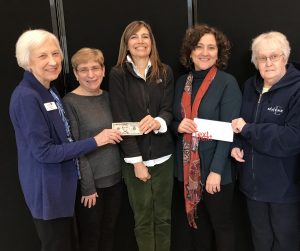 President Dianne Mero (far left) and Book Group Co-chair Alyse Goldman (second left) present a generous contribution from the members of the
Wednesday Afternoon R-H Book Group
to Executive Director Michelle Sullivan of AART (All Ages Read Together), which provides free school readiness programs for at-risk preschool aged children. One such program is located at the Herndon Senior Center where the Book Group meeting is held each month.
Contacts:
Shirley Finkelstein   Shirley.finkelstein@comcast.net
Alyse Goldman        alysegoldman@icloud.net