The AAUW Reston-Herndon Branch Book Groups are open to all members.
These lively and well-attended groups meet in afternoon and evening sessions each month. The afternoon meeting is held at 2:15 p.m. on the fourth Wednesday of the month at the Herndon Senior Center. The evening group meets at 7:00 pm. on the fourth Thursday of the month at Scrawl Books on Freedom Drive in Reston Town Center. The same book is discussed at both the Wednesday afternoon and Thursday evening groups.
Members have input into what will be read for the year from a large selection list suggested by group members and the group coordinators. The final list each year always includes one selection from the AAUW Adelante Books of the Month list.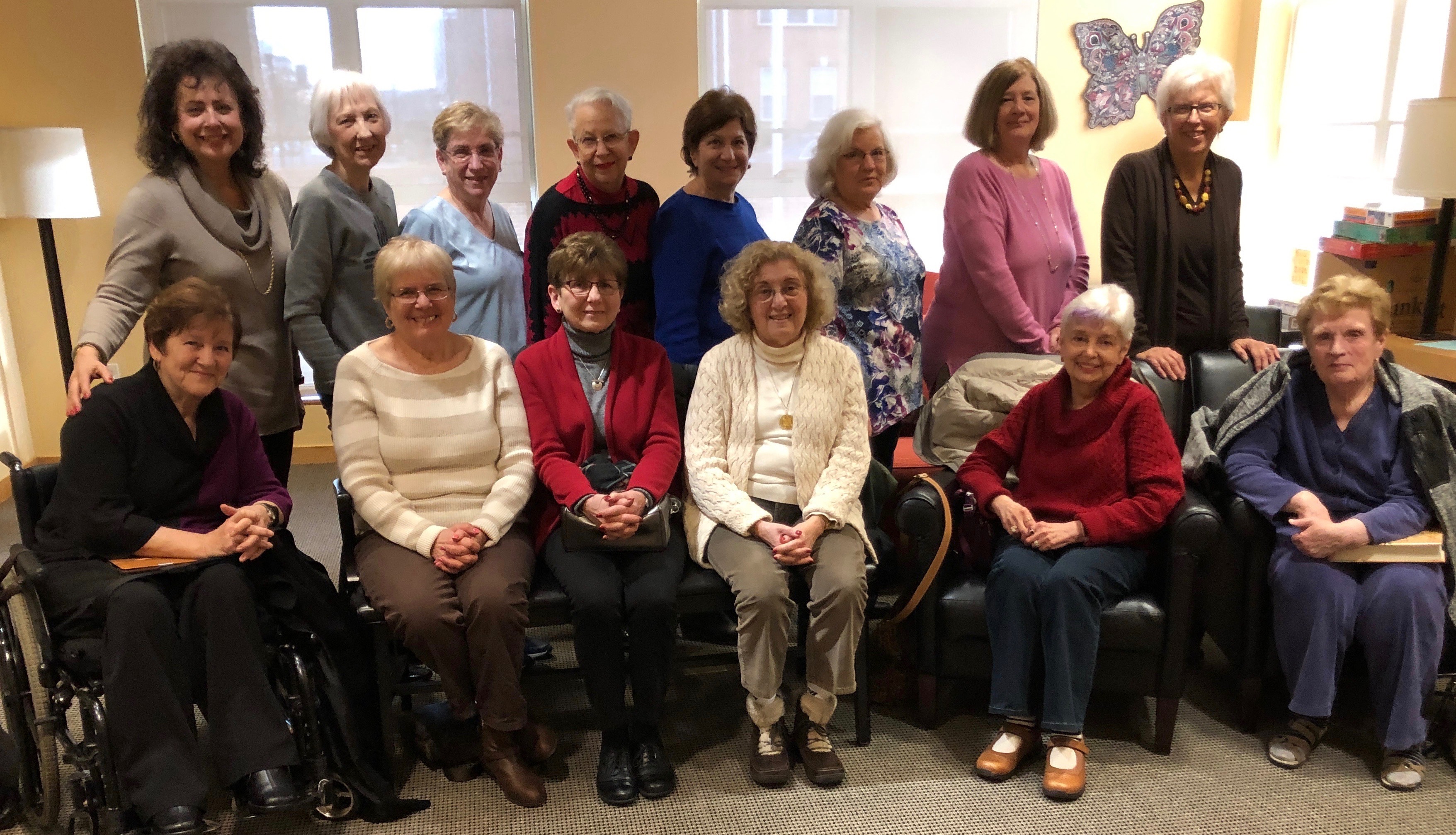 Wednesday Afternoon Book Group Meets at the Herndon Sr Center
Book Selections for 2019:
January          Educated, by Tara Westover
February        The End of the Affair, by Graham Greene
March             Mrs. Sherlock Holmes, by Brad Ricca. (Women's History Month selection)
April                Pachinko, by Min Jin Lee
May                 Quantum Spy, by David Ignatius
June                 How the Irish Saved Civilization, by Thomas Cahill
July                   Harvey Milk, by Iris Federman
August             Varina, by Charles Frazier
September     Eleanor Oliphant is Completely Fine, by Gail Honeyman
October           Warlight, by Michael Ondaatj
November*          –       No Meeting     –
December*     Light on Snow, by Anita Shreve
 *We do not meet in Nov and meet on the FIRST Wednesday and Thursday in Dec. each year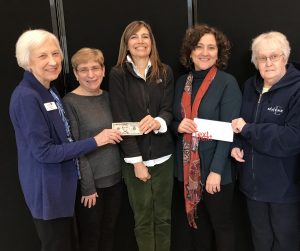 President Dianne Mero (far left) and Book Group Co-chair Alyse Goldman (second left) present a contribution from the members of the Wednesday Afternoon Book Group to Executive Director Michelle Sullivan of AART (All Ages Read Together), which provides free school readiness programs for at-risk preschool aged children. One such program is located at the Herndon Senior Center where the Book Group meeting is held each month. The Afternoon Book Group made generous contributions in both 2018 and 2019 to help the fundraising efforts. 
Contacts:
Shirley Finkelstein   Shirley.finkelstein@comcast.net
Alyse Goldman        alysegoldman@icloud.net