The AAUW Reston-Herndon Branch Book Groups are open to all members.
These lively and well-attended groups meet in afternoon and evening sessions each month. The afternoon meeting is held at 2:15 p.m. on the fourth Wednesday of the month at the Herndon Senior Center. The evening group meets at 7:00 pm. on the fourth Thursday of the month at Scrawl Books on Freedom Drive in Reston Town Center. The same book is discussed at both the Wednesday afternoon and Thursday evening groups.
Members have input into what will be read for the year from a large selection list suggested by group members and the group coordinators. The final list each year always includes one selection from the AAUW Adelante Books of the Month list.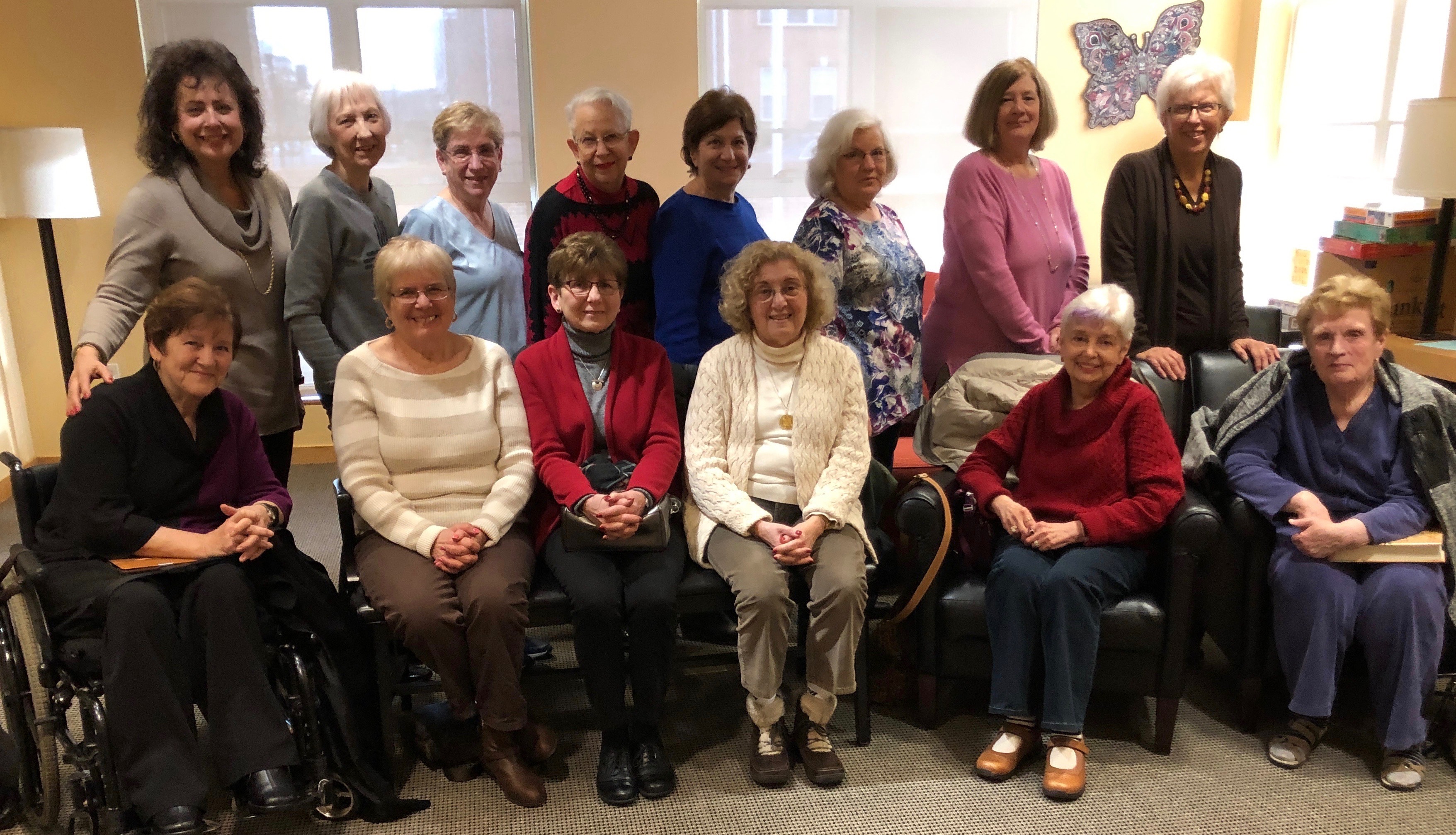 Wednesday Afternoon Book Group Meets at the Herndon Sr Center
Book Selections for 2020:
January                  A Better Man by Louise Penny
February               City of Girls by Elizabeth Gilbert
March                    Code Girls by Liza Mundy
April                       Where the Crawdads Sing by Della Owens
May                        Becoming   by Michelle Obama
June                       Olive Again by Elizabeth Strout
July                        A Woman of No Importance by Sonia Purnell
August                  Northhanger Abbey by Jane Austen
September          Moment of Lift by Melinda Gates
October               Free Food for Millionaires by Min Jin Lee
November*          – No Meeting –
December*        A Well-Behaved Woman by Therese Ann Fowler
 *Book Group does not meet in November and meets
on the FIRST Wednesday and Thursday in December.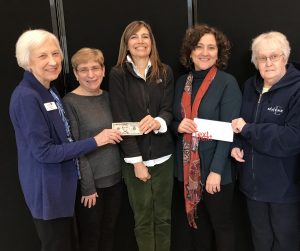 Former Branch President Dianne Mero (far left) and Book Group Co-chair Alyse Goldman (second left) present a contribution from the members of the Reston-Herndon Wednesday Afternoon Book Group to Executive Director Michelle Sullivan of AART (All Ages Read Together), which provides free school readiness programs for at-risk preschool aged children. One such program is located at the Herndon Senior Center where the Book Group meeting is held each month. The Afternoon Book Group made generous contributions in both 2018 and 2019 to help the fundraising efforts. 
Book Group Co-chairs:
Alyse Goldman        alysegoldman@icloud.net
Carla Heymsfeld     heycarla@comcast.net