Support AAUW
Whether you believe it most important to protect the rights of those facing discrimination, provide educational opportunities, advocate with a powerful voice or any of the other AAUW programs, there are many ways you can give. AAUW is grateful for your support and believes that you should decide which programs to support and the best way for you to give a donation.
AAUW is a top-rated 501(c)(3) charity; therefore, donations are tax deductible.*
The AAUW Fund is a general fund for unrestricted gifts which are used when and where they are most needed. This prevents overfunding and underfunding of areas that keep AAUW from reaching our full mission potential. By donating to the AAUW Fund, you are helping incubate and grow our highly successful, community-based, mission-driven programs, such as Tech Trek and Tech Savvy, Start Smart and Work Smart, the Legal Advocacy Fund, the National Conference for College Women Student Leaders, research, and other initiatives.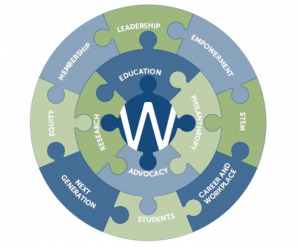 In the past, AAUW's National membership dues covered the costs of managing and running mission-based programs. Though membership numbers have remained steady the past several years, program costs have risen annually. AAUW national membership dues cover just 30 percent of the funds needed to support the mission-based programs and advocacy efforts that are fundamental to AAUW's ongoing effectiveness.
*Please Note: AAUW, the National organization, is a 501(c)(3) charity; like almost all AAUW branches, AAUW Reston-Herndon Area Branch is a 501(c)(4) organization, so under IRS regulations, branch donations are not tax deductible.