AAUW Mission Statement:
To advance gender equity for women and girls through research, education and advocacy.
We're involved. You can be, too!
Click "JOIN" at the top or bottom of this page.
************************************

AAUW Reston-Herndon Reminds You to VOTE!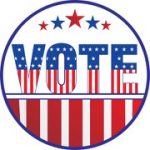 Virginia Election Updates
The June 9th Primary election has been moved to June 23. All voters are encouraged to vote mail ballots. Virginia law requires a reason to vote absentee, however, state officials have determined that COVID-19 is a valid reason for everyone to vote absentee, even if they are not ill. All voters are encouraged to apply for their absentee ballot online  at Virginia Voter Information and to use reason 2A on the form (2A covers disability or illness and does not require documentation). The deadline to apply for an absentee ballot for the June 23 election is June 16. Voters mailing absentee ballots for the June 23rd primary do NOT need a witness.
******************************************
IMPORTANT MESSAGE FROM YOUR
BRANCH PRESIDENT
"All in-person branch activities are cancelled through June 10 in accordance with Governor Northam's stay at home order.  Book Group, Great Decisions and the Board will continue to meet via Zoom and details will be sent to participants so that they can log in. We will update you on the status of our all of our meetings when we have more information to share."
– Janine Greenwood, President AAUW Reston-Herndon Branch
***************************************


AAUW 

WORK SMART ONLINE

 IS HERE!
Learn to negotiate your salary. 
Why does it matter?
The pay gap has lifelong financial effects that grow over time, from the ability to pay for education and childcare to saving for retirement, impacting women in nearly every profession. The Work Smart program teaches women at every stage of their careers how to negotiate their pay, resulting in improved financial futures for each of them and their families. Share this program with everyone you know and print our  WorkSmart flyer created by the Reston-Herndon Branch to distribute or post in the community.
All AAUW members are encouraged to take the course.
Website guests can take the course for free by clicking


WORK SMART ONLINE



RECENT ACTIVITIES UPDATE!
Check Out the  "Recent Activities" page (click underlined words) to see what our branch has been up to. Photos and descriptions for the most recent in-person activities can be found there. Book Group, Great Decisions, the Board of Directors meetings and the newly formed "Streaming Group" will continue as Zoom activities until it is safe to reconvene.
*********************
Ready to Join this active and vibrant group?