We're involved. You can be, too!
Click "JOIN" at the top or bottom of this page.

AAUW 

WORK SMART ONLINE

 IS HERE!
Learn to negotiate your salary. 
Why does it matter?
The pay gap has lifelong financial effects that grow over time, from the ability to pay for education and childcare to saving for retirement, impacting women in nearly every profession. The Work Smart program teaches women at every stage of their careers how to negotiate their pay, resulting in improved financial futures for each of them and their families.
Share this program with everyone you know! 
Print our  WorkSmart flyer
(created by the Reston-Herndon Branch)
to distribute or post in the community.
All AAUW members are encouraged to take the course.


Website guests can take the course for free by clicking


WORK SMART ONLINE
RECENT ACTIVITIES UPDATE!
Check Out the  "Recent Activities" page (by clicking the underlined words) to see what our branch has been up to. Photos and descriptions for the latest activities can be found there including: the Membership Meeting, Update and Tea (12.16.19), our representatives at Virginia Lobby Day in Richmond (1.15.19), our collaboration with Chico's (Fairfax Center store) for a Fashion and Recruiting event (1.18.20) and our Arts & Culture Outing to the Library of Congress exhibit, "Shall Not Be Denied – Women Fight for the Vote."
***************
***********

YES! VIRGINIA HAS PASSED THE EQUAL RIGHTS AMENDMENT!   The majority of Americans mistakenly believe that women and men have equal rights under the Constitution. The 14th Amendment of the Constitution explicitly states that men are guaranteed equality under law but is poignantly silent about women. The advancement of women's equality continues incrementally through patchwork legislation and court decisions, but women's equality under law remains illusory because these laws can be changed or even revoked at the whim of legislators and judges. The Equal Rights Amendment (ERA) provides the constitutional guarantee that all men and women are truly equal under the law and that these rights cannot easily be abridged (AAUW Issues: Equal Rights Amendment). To learn more click here: ERA
Wednesday, January 15, 2020! Virginia became the 38th state to approve the Equal Rights Amendment on a vote of 59-40 in the House and 28-12 in the Senate.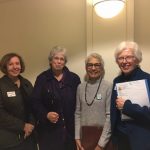 Several of our dedicated branch Lobby Corps members were in Richmond to represent us and witness  this extraordinary event.
Thank you Janine Greenwood (Branch President), Stephanie Abbott, Judy Helmich and Maureen Dwyer (R to L)
****************
Ready to Join this active and vibrant group?