Our branch is proud to present a wide array of topics at our meetings. Our speakers and guests have included state legislators, authors, educators, and advocates. In addition to branch programs there are opportunities to attend other branch, Northern District, and state (VA) programs.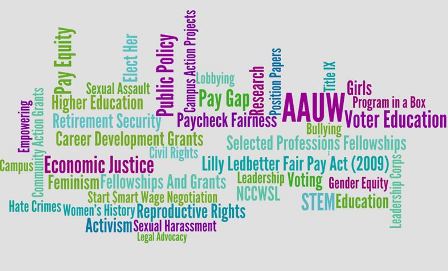 2019 – 2020 PROGRAMS 



2020 Legislative Year Preview
Speaker: Karrie Delaney – VA State Delegate – 67th District
Location: Cafe Montmartre at Lake Anne
Date/Time: Tuesday, October 15, at 11:30 a.m. Plan to stay for lunch if you can!
Friendsgiving Luncheon
Speaker: Julissa Otero, Assistant Secretary of Communications , Smithsonian Institute
Event: Annual Luncheon, Scholarship Fundraiser
Location: Red's Table – South Lakes Shopping Center
Date/Time: Saturday, November 16 at 11:30 a.m.
Branch Member Meeting
Topic: AAUW Update & Dessert
Location and Time: To be Announced
Date: Monday, December 16 at 2:00 p.m.

Library of Congress
Event: Branch Member Cultural Arts Outing
Date/Time: Monday, February 3, 2020; Time TBA
Branch Meeting – Diversity and Inclusion
Event: Discussion on diversity and inclusion
Location: Trails Edge, Reston
Date/Time: Saturday, March 7, 2020
Hillwood Mansion and Garden-POSTPONED
Event: Branch Member Cultural Arts Outing
Location: Hillwood Mansion and Garden, 4155 Linnean Ave NW, Washington, DC 20008
Time: TBA
Date: Wednesday, April 22, 2020
Annual Business Meeting & Pot Luck-POSTPONED
Event: Annual Business Meeting, Elections and Social – Pot Luck refreshments will be served
Date, Location and Time: May, 2020; time and venue in planning stage
PLEASE NOTE: All of our meeting locations are accessible for people with mobility and other special challenges. Please see our listing of frequently used venues under "About Our Branch" for information and how to contact the venue directly for details regarding parking and accessibility.