2019-20 RESTON-HERNDON
BRANCH PHOTOS
Reston-Herndon Branch
Meet and Greet at Mon Ami Gabi Restaurant in Reston
The Fall Meet and Greet was held on Saturday, September 14, 2019 at Mon Ami Gabi Restaurant in Reston. Judi Polizzotti (below) hosted new members and individuals interested in joining AAUW along with branch representatives: Carol Flicker, Roberta Sherman, Natahlia Bishop, Mary Zane, Alyse Goldman and Dianne Mero.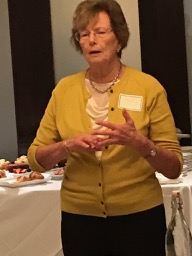 2018 – 19 RESTON-HERNDON
BRANCH PHOTOS
Reston-Herndon Branch
2018-19 Annual Business Meeting
June 13, 2019
The branch annual business meeting, elections and "pot luck" dinner took place at Roberta Sherman's home on June 13 and was a huge success. Everyone enjoyed the extended social and dinner time and hearing about the plans for 2019-20 from our incoming board members elected that evening. Outgoing board members Judy Skirbunt and Dianne Mero were treated to lovely farewells and appreciation for their contributions to the branch over the past 2 years (ask Dianne about her Past-president's pin!). To see additional photos from the evening, please visit our Photo Gallery on this website under Our Branch.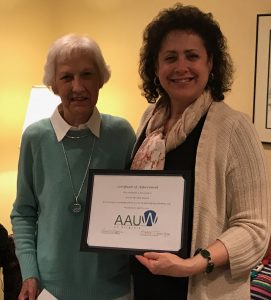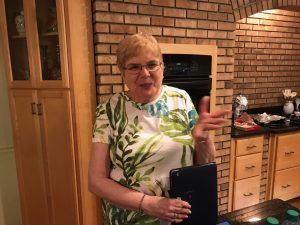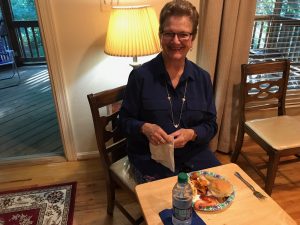 Reston-Herndon Branch Adopt-A-Spotters & Friends
Nine Branch "Adopt-A-Spotters" met on Saturday, May 25, at Uplands Pool for our periodic clean-up the of both the road and trail from the pool to Wiehle Avenue along North Shore Drive in the Uplands Recreation Area. It was another beautiful day for a walk in the woods with friends.
"A Conversation with Ken"
Nearly 20 members attended our most recent branch member meeting held the morning of May 15 at Cafe Montmartre at Lake Anne Plaza. Delegate Plum offered his take on the 2019 Virginia General Assembly Legislative Session. Members enjoyed lunch and socializing at the cafe after his presentation.  A very successful event thanks to Judy Skirbunt and Janine Greenwood.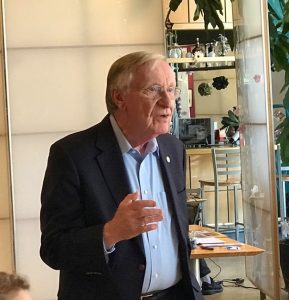 Delegate Plum at Cafe Montmartre
Attendees enjoy Ken's remarks, asked questions and had a nice lunch together.
(May 2019)
50th Anniversary Celebration
Reston-Herndon Area Branch
April 28, 2019
A special celebration was held on April 28, 2019, to commemorate the 50th anniversary of AAUW Reston-Herndon Area Branch which was chartered on February 14, 1969. The event, attended by 50+ current and former members, featured an outstanding program with congratulatory messages from National and from our AAUW-VA Co-president, Leslie Tourigy; keynote speaker, Senator Jennifer Boysko; reminiscences, and an outstanding slide show. Below are just a few of the many photos taken that day (see our Facebook page for more!).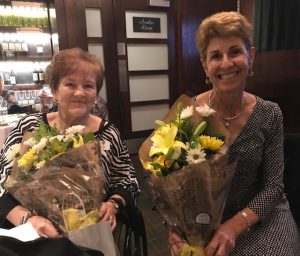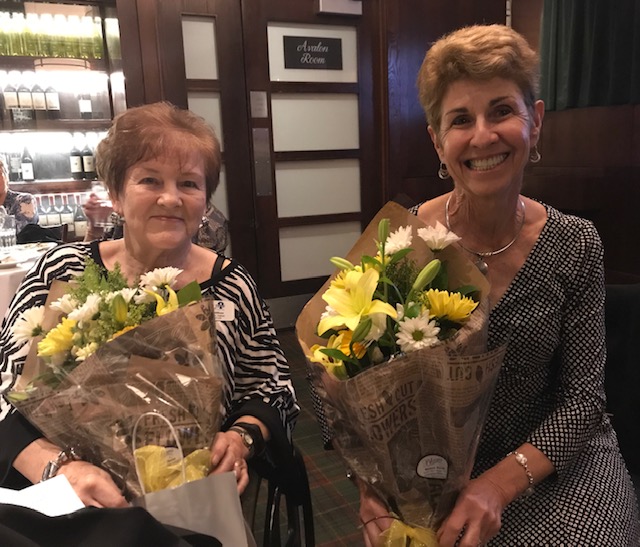 Anniversary Celebration Co-chairs, Marion Stillson & Judi Ornoff
Socializing Time!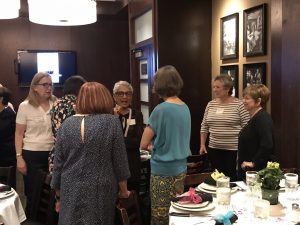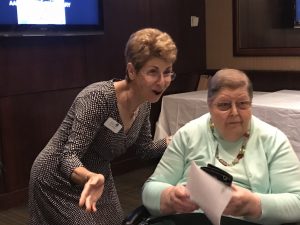 Displays

Speakers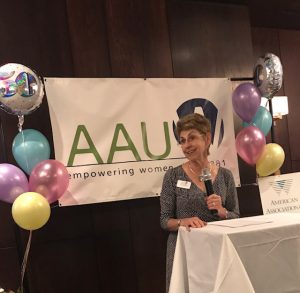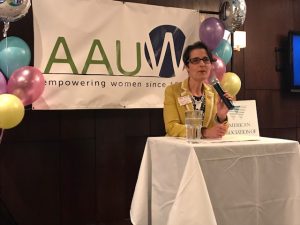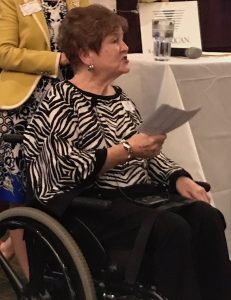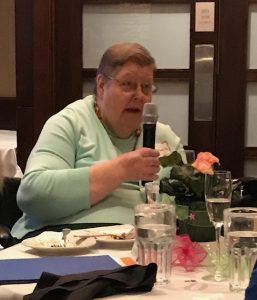 Speaker Photos:
top left – Judi Ornoff,  top right – Leslie Tourigny,
mid left – Dianne Mero,    mid right – Sen. Jennifer Boysko,
3rd left –       Marion Stillson, 3rd right – Gail Osberg
Bottom – Barbar Naef

Luncheon Fellowship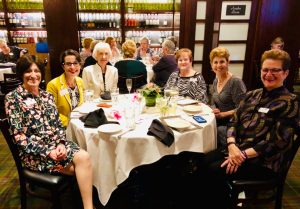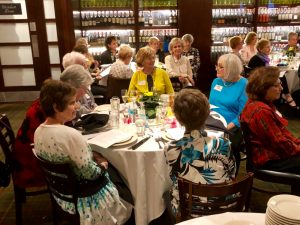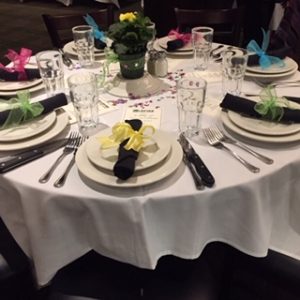 ALL PRESIDENTS PHOTO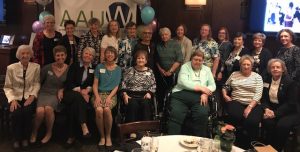 (April 28, 2019)
February Cultural Arts Outing
Cherry Hill Farm – Falls Church, VA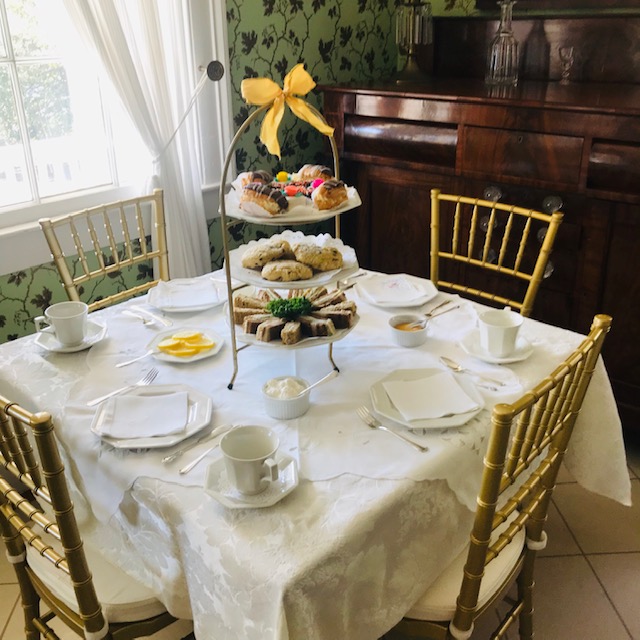 New Members Orientation
Feb 28, 2019 at Glory Days Restaurant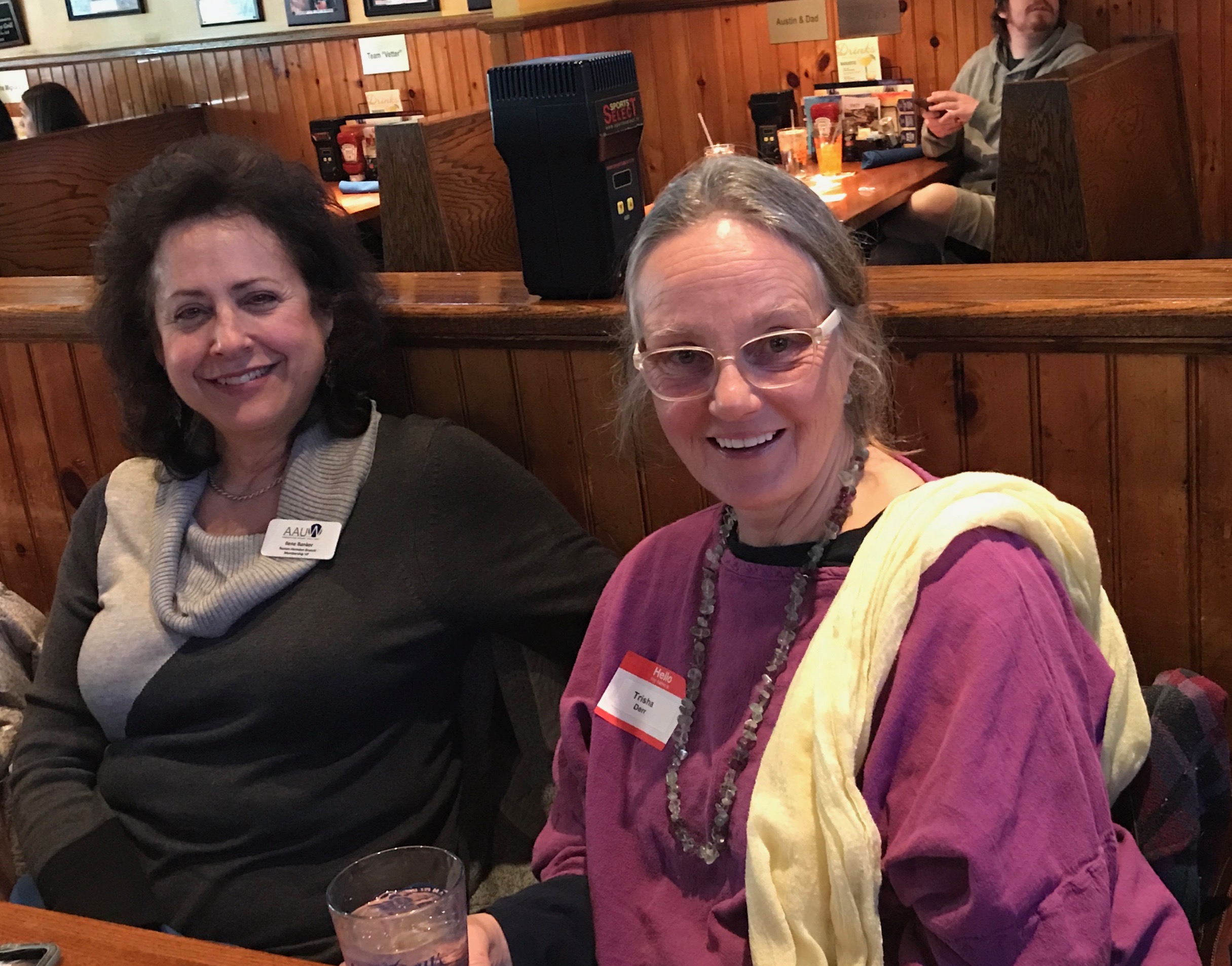 Gender Pay Equity Forum
Temple Rodeph Shalom
February 10, 2019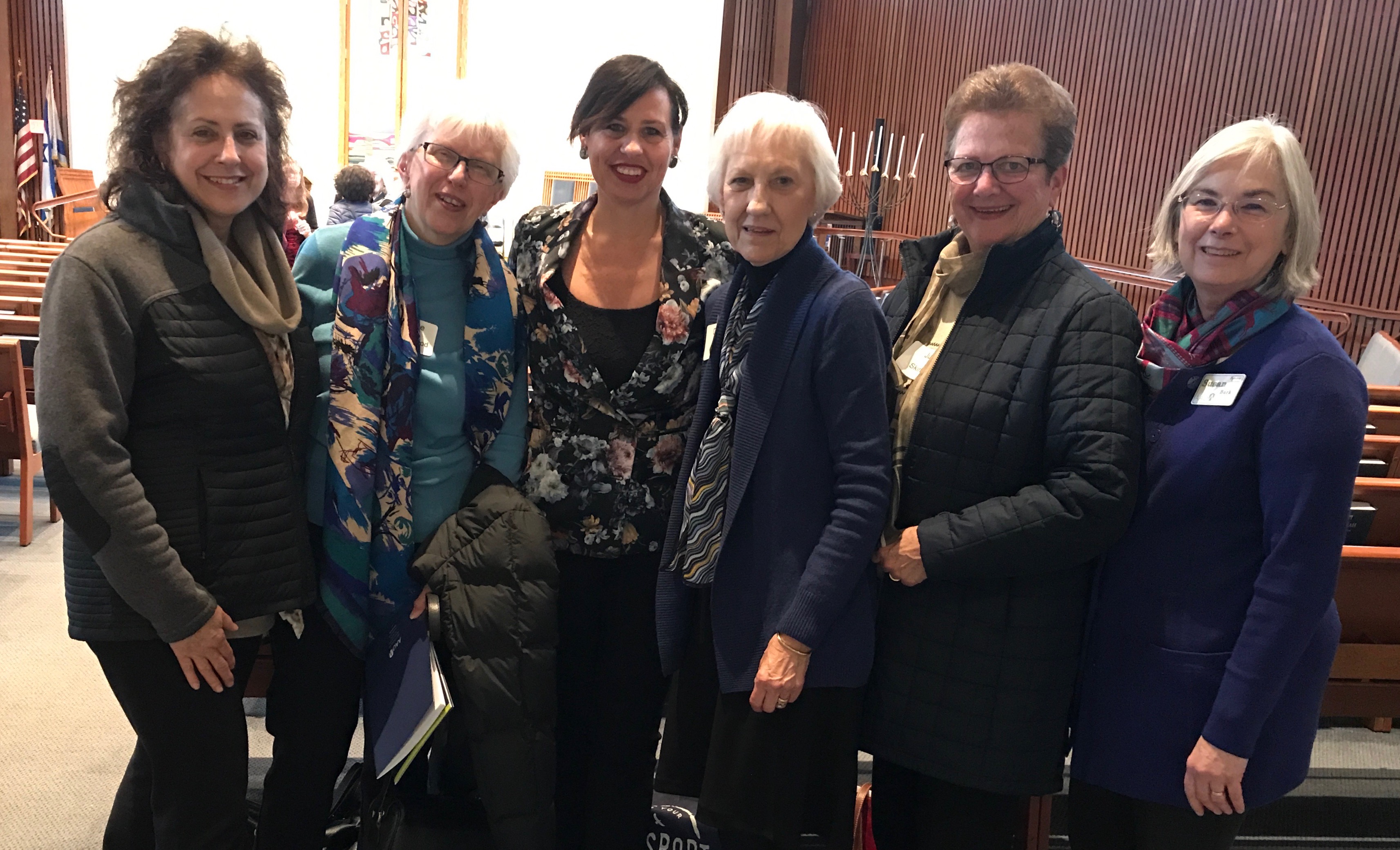 L-R: Ilene Banker (Membership VP, Janine Greenwood (VP), Deborah J. Vagins (AAUW Sr VP of Public Policy and Research), Dianne Mero (President), Judy Skirbunt (VP Programs), Susan Burk (AAUW-VA Co-Vice President for Public Policy)
JANUARY MEMBERSHIP PROGRAM
Guest Speaker, Lindsay Vajpeyi
Director of Education & Outreach, Memory Care Center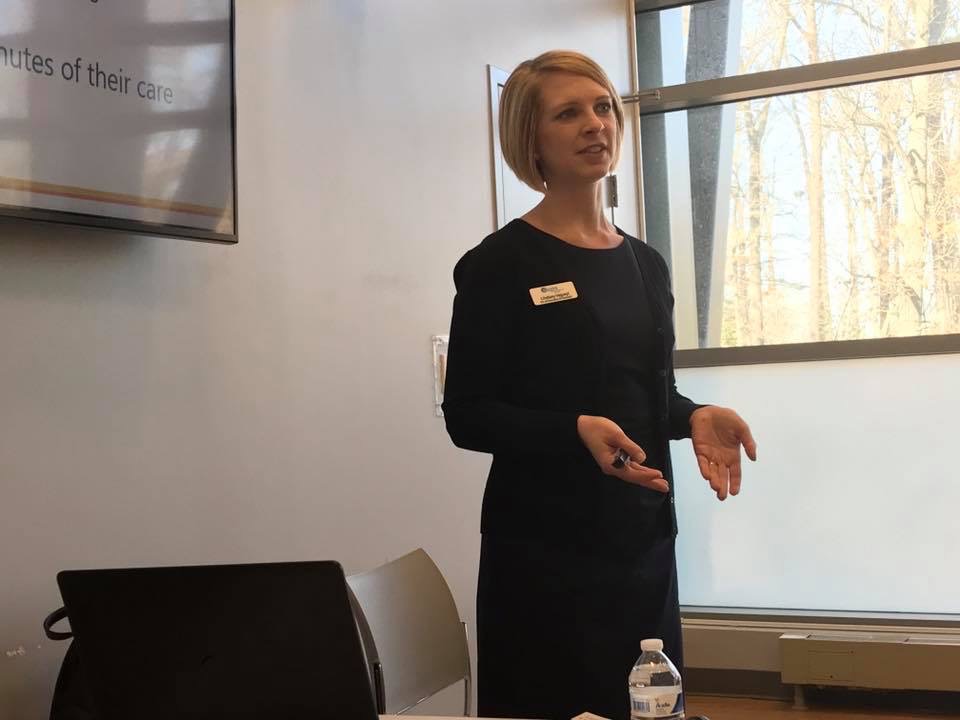 DECEMBER 2018 MEMBERSHIP PROGRAM
Annual Friends Giving Fund Raising Luncheon
December 8, 2019, at Mon Ami Gabi Restaurant in Reston Town Center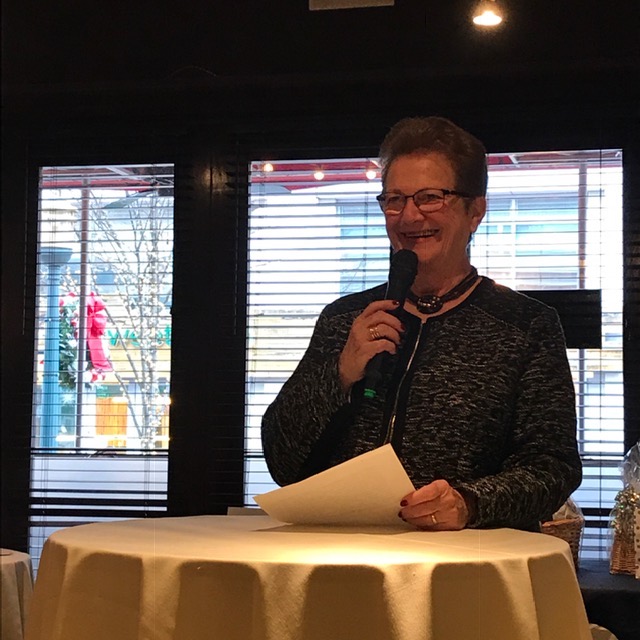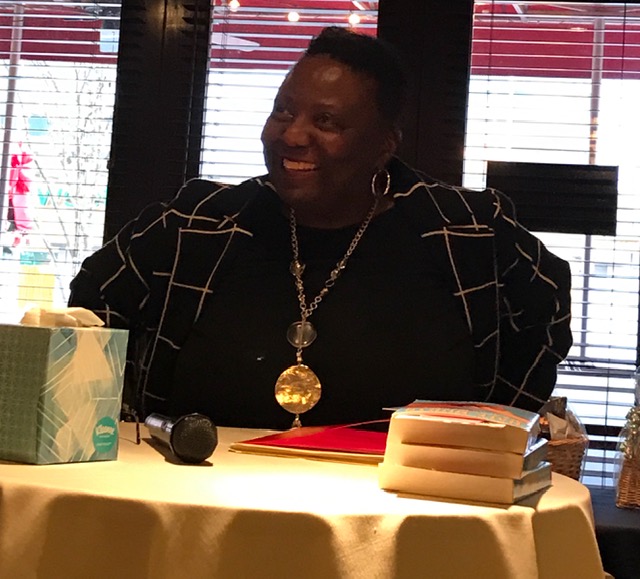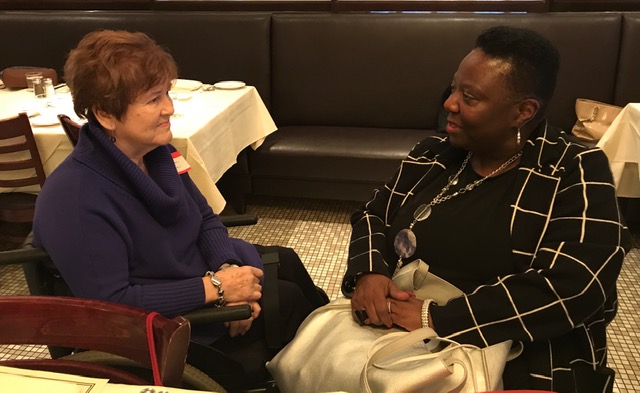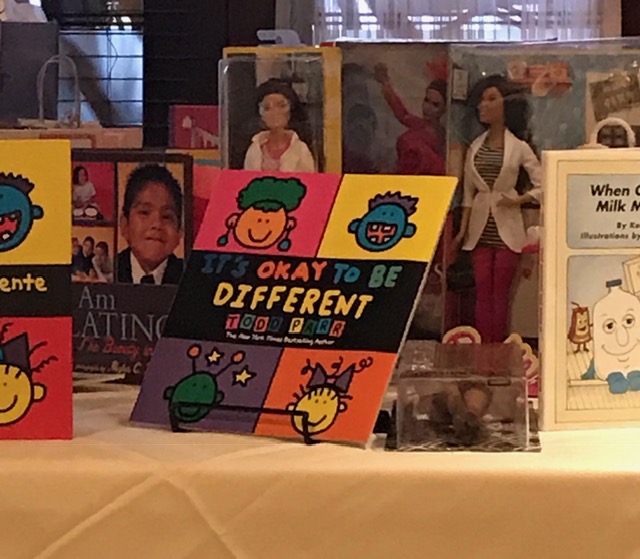 OCTOBER MEMBERSHIP PROGRAM
Financial Counselor, Linda J. Black, joined us to share her "Seven Habits of Financially Confident Women," the practices and habits that will help women to be confident about their financial future.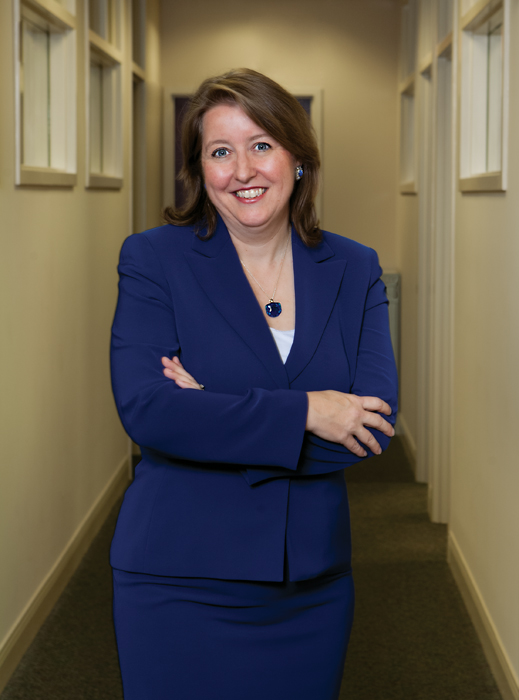 Linda J. Black, Financial Counselor
SEPTEMBER MEMBERSHIP PROGRAM
Alison Friedman, guest speaker, shared her experiences and personal feeling about being a candidate in the 10th Congressional District 2018 Democratic Primary.
Program V-P, Judy Skirbunt listens intently after her introduction.
A Handmaid's Tale
The Wednesday Afternoon and Thursday Evening Book Groups meet
throughout the summer and had a special visitor at the July meetings.
In honor of the "read of the month," A Handmaid's Tale,  one of the
handmaid's made a stop at both groups. Given the scary content of
this book, the visit and levity that ensued was well received by both groups.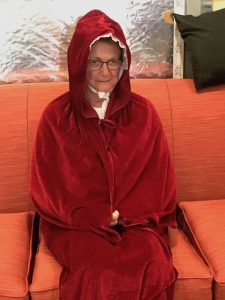 Our favorite handmaid, Judy Skirbunt!
The AAUW handmaid, Judy, joins the Wednesday Afternoon group (middle)
and the evening group (bottom).                            July 2018
2017 – 18 BRANCH PHOTOS
End of the year dinner and celebration!
The Annual Business Meeting and Dinner, held in June at the end of each fiscal year, was a great success. Instead of cursing the sun, branch members philosophically embraced it as an arbitrator of the coming of a wonderful summer.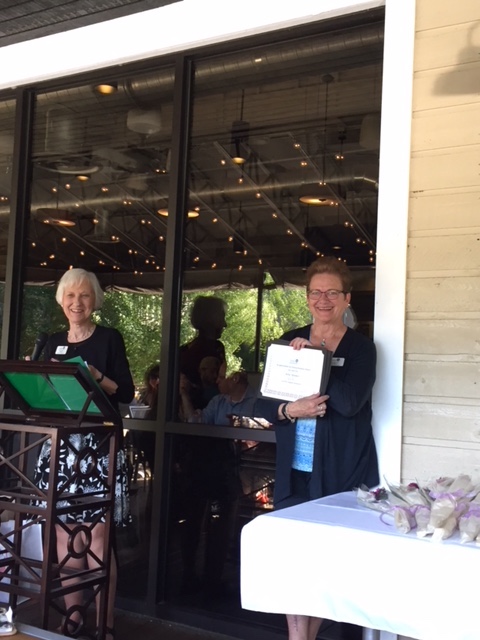 Dianne Mero ran a short business meeting and with the help of Judy Skirbunt  the branch honored members for their hard volunteer work for the branch, including the eight state Named Honorees.
(top photo)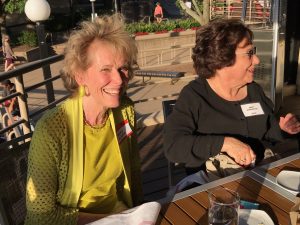 We had a wonderful dinner with good service, a great breeze (thank heavens!) and a terrific speaker in Mali Phonpadith  (row 3, right), a refuge from war-torn Laos, who shared her experiences and explained how she was able to become so successful, on many levels, in spite of her initial disadvantages as an female refugee-immigrant. We were all spell bound and in awe of her accomplishments.
Thanks to everyone's participation (see array of photos),  we had a great closure to our year.
June 2018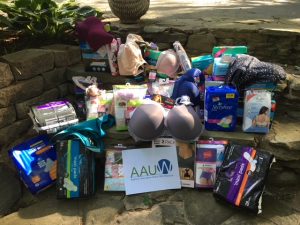 See bottom photo for our many donations to BRAWS from our generous members who attended the end-of the year dinner.
Book Club Gift to AART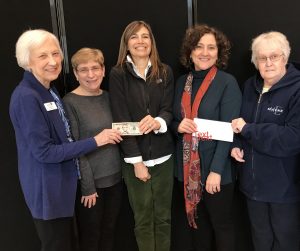 Dianne Mero, Branch President, and Alyse Goldman, Book Group Co-chair, present a generous donation from the Wednesday Afternoon AAUW Book Group to Michelle Sullivan, Director of AART, a program to assist pre-school children with reading skills to ensure they will be ready for kindergarten.  March 2018
Reston-Herndon Branch Members enjoyed a Cultural Arts outing to the Fairfax Museum (top) and the Ratcliffe-Alison-Pozer House (above left) in Fairfax City. In spite of a little rain shower, we enjoyed both tours, the beautiful grounds at the House and a lovely lunch together (above right) at Hamrick's Restaurant in a restored historic home on Chain Bridge Road in Fairfax City.  May 2018
AAUW of Virginia State Conference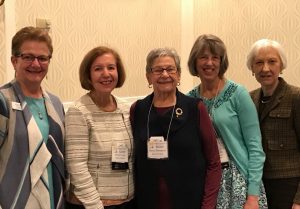 Judy Skirbunt, Maureen Dwyer, Nancy Thompson, Cyndi Shanahan and Dianne Mero represented the Reston – Herndon Branch at the State Conference in Portsmouth, VA.
Cyndi Shanahan, VA State Membership VP, presented a Certificate of Appreciation to the Reston-Herndon Branch for its outstanding efforts in recruiting and retaining membership for the 2017-18 year.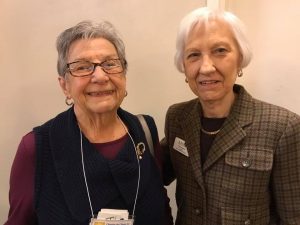 Branch Member and Northern District Treasurer, Nancy Thompson and Branch President, Dianne Mero, enjoyed chatting at the conference. 
April 20-22, 2018
The Hello Girls Premiere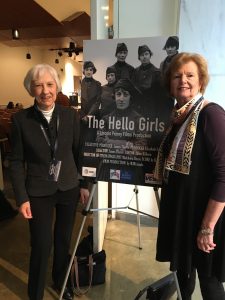 Judi Polizzotti and Dianne Mero attend the premiere of "The Hello Girls" documentary about the telephone operators in Europe that helped our military fighting troops win the war. The event was held at the "Women In Military Service For America Memorial" in Arlington, VA.
Judi and Dianne thought both the film, the discussion regarding making the film and the museum were all fascinating and a much deserved tribute to our military women. March 2018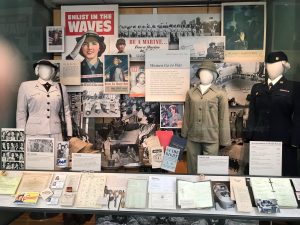 AAUW-NCNW Working Together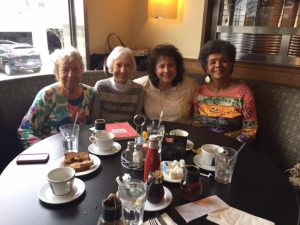 Dianne Mero and Ilene Banker meet over breakfast with dual AAUW R-H – NCNW Dulles Section members Laura Thomas (far left) and Carol Bradley (far right)  to discuss membership, potential co-sponsorship of programs and other items the two group have in common. As always, it was a very successful strategy meeting. April 2018
March Program Meeting
Our Branch Meeting Program for March was called "Healthy Options" and featured Michele Wirth (with Snap Fitness); Holly Anderson (from Reston Hospital) and Marcia Childress (Rise Well-Being Center). Their excellent presentations had us all sitting up straighter, watching on sugar intake and breather more gently!                                                                                        March 2018
AAUW R-H joined NCNW-Dulles Section in co-sponsoring a Saturday morning program on "An Immigrant's Life" with the Giving Circle of Hope. Members of the two groups enjoy a special partnership. January 2018
At the 2017 annual "FriendsGiving" Luncheon on November 4, branch members gathered at Mon Ami Gabi Bistro in Reston Town Center to celebrate our friendship and share our good fortune by contributing to the NVCC – Loudoun Scholarship Fund, the AAUW Foundation Funds and honoring our scholarship winner, Brittany Whitfield.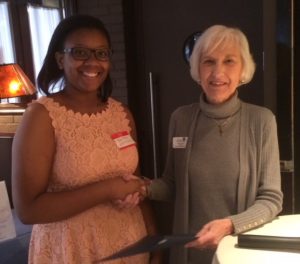 President Dianne Mero presents Scholarship Recipient Britany Whitfield with her scholarship certificate and other gifts from the branch. (Left)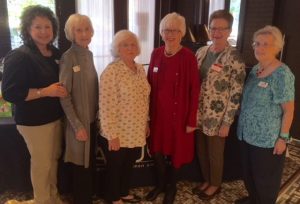 Judy Skirbunt, Program VP, (second from right) planned the excellent luncheon with the help of the Executive Committee and other members of the Board of Directors and the branch. Above: Ilene Banker, Membership VP; Dianne Mero; Sharon Gilman, Secretary; Janine Greenwood, Vice-President; Judy, and Ruth Ruttenberg, Treasurer.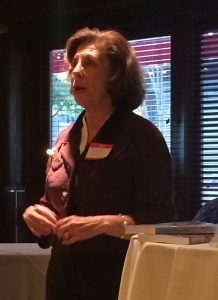 Our terrific speaker was Linda Sittig, local author, award-winning journalist and dedicated blogger,  who kept us all at rapt attention with her interesting anecdotes about Women in History. Great food, great fellowship and a generous cause. November 2017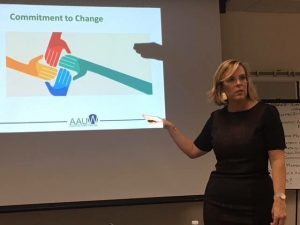 AAUW's new CEO, Kim Churches, shares her impressive vision for the organization at the fall gathering of the Northern District of AAUW – VA. October 2017
Members new to the Reston-Herndon Branch for 2017-18 were invited to join the branch leadership team at a "Welcome to the Branch" informational and social gathering organized and hosted by Membership VP, Ilene Banker. New members were able to meet each other and get to know some of the current members. October 2017



League of Women Voters representative, Olga Hernandez, spoke at the monthly branch meeting about the upcoming election and other related voter issues, such as gerrymandering. (top)
We had a good turn-out for this program! (bottom)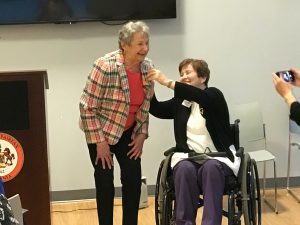 Long-time AAUW member, Nancy Thompson is "pinned" into the AAUW LEGACY CIRCLE by Marion Stillson, past-president of the branch and state, and current Legacy Circle member. (left photo) They are joined by VA state presidents, Sandy Lawrence and Patsy Quick. (bottom) September 2017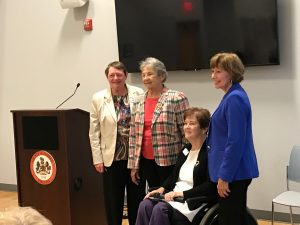 Branch members enjoyed the Cultural Arts outing to the Udvar-Hazy Center. August 2017


Dianne Mero & Ilene Banker attend
a summer partner – planning session
with NCNW representatives. July 2017
2017 BRANCH PHOTOS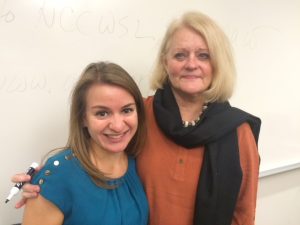 2015 – 2017 Branch President Gail Parsons with NVCC NCCWSL attendee (top photo)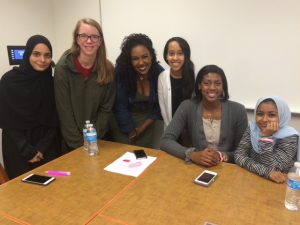 (bottom) Conference attendees at a presentation at Northern Virginia Community College – Loudoun Campus. 2017

Mother-Daughter-Granddaughter Luncheon with NCNW

Spring, 2017
Guest Speaker PAULA YOUNG SHELTON



2017 DAR Museum Cultural Outing
2013 BRANCH PHOTOS
2010 BRANCH PHOTO
2004 BRANCH PHOTO

RESTON – EARLY BRANCH PHOTOS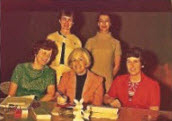 Leaders of AAUW Reston Branch  [later re-named Reston-Herndon] and branch members  (below)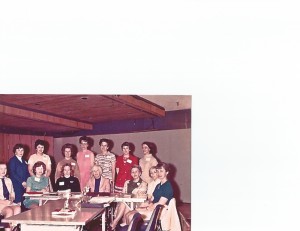 Members of AAUW Reston – Early Branch photo
(click on photo name for enlarged image)