Since AAUW's founding, our members and supporters have spoken out about policies important to women and girls. Without their voices, invaluable legislation would have never been passed. In recent years, such legislation includes the Family and Medical Leave Act, the Matthew Shepard and James Byrd Jr. Hate Crimes Prevention Act, and the Lilly Ledbetter Fair Pay Act.
The policy work of AAUW connects and rallies advocates at the local, state, national, and global levels to advance our work to empower women and girls. With the member-endorsed Public Policy Program as our guide, AAUW uses lobbying and grassroots efforts to push forward policies that break through educational and economic barriers for women.
The AAUW Public Policy and Government Relations Department, with input from the member leaders of the AAUW Public Policy Committee, leads AAUW's lobbying and grassroots efforts. However, it is the AAUW member advocates in our branch who are active at the grassroots level that help to enact policies (i.e., Human Trafficking) that empower women. The energy and efforts of these members make these policies happen.
Lobby Corps

Please Note: All Lobby Corps 

Activities have been suspended until after the Covid-19 Pandemic restrictions are lifted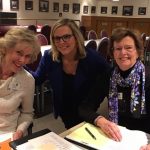 Reston-Herndon Branch Public Policy Co-chairs, Mary Zane and Judi Polizzotti, meet with AAUW CEO Kim Churches at a Lobby Corps meeting on Capitol Hill. (Nov 14, 2019)
What is Lobby Corps? The AAUW Action Fund Capitol Hill Lobby Corps promotes AAUW's Public Policy Program by serving as volunteer advocates on Capitol Hill.  Volunteers represent (only) the views and positions outlined in the AAUW member-voted Public Policy Program. The Lobby Corps Working Group supports the Lobby Corps by recruiting, mentoring, and assigning lobbying pairs. They lobby members of Congress on designated Thursdays when Congress is in session. Examples of the issues that members advocate are: Title IX, Sexual Harassment and Violence in Schools, Paid Sick Days, Gender Pay Gap, and Pell Grants.
All branch members may participate in Lobby Corps. In our branch, you are encouraged to accompany current team members to Capitol Hill to experience first-hand the excitement of advocating for something you believe in that will make a difference for women and girls.
Join AAUW Action Fund Lobby Corps:
An Exciting Opportunity to Represent AAUW on Capitol Hill
Lobby Corps meets intermittently on Thursdays at 9:30 am in either the House or Senate building, as determined by AAUW national staff. Members from branches in Virginia, Maryland and DC work in pairs and usually visit 6 or 7 offices. Generally, these visits are completed before or by noon. AAUW-VA members, including Reston-Herndon, are able to reach the Capitol area via Metro.
Lobby Corps Volunteer Requirements:

Be an AAUW member.
Commit to AAUW issues and professionally convey the strategic policy position during your legislative visits.
Commit to regular attendance.
Attend an annual Lobby Corps Training session at AAUW Headquarters. The next training session will be posted on this website, in our newsletter and in a separate branch email.
Background – How the Lobbying Process Works:
On Monday of the week that Lobby Corps (LC) is meeting, an AAUW Public Policy staff member notifies LC members of the upcoming week's topic with background information provided. The LC member replies via email to the LC volunteer coordinator that she will be attending and LC members are then notified via email of their lobbying partner.
By Wednesday evening, participants receive detailed information on the issue and its current status. On Thursday morning, LC members meet in the House or Senate cafeteria and receive a briefing complete with a Q&A session, Letters, and Fact Sheets for targeted distribution.
Be assured that you will be well prepared before every congressional visit and will always have an experienced partner.
Add your AAUW voice to ongoing national conversations in person. LC membership is unique to our Metro area and is a rewarding way to get in-depth knowledge on current issues. You'll meet like-minded participants, enjoy new friendships and learn that AAUW members have an amazing wealth of backgrounds and education.
~~~~~~~~~~~~~~~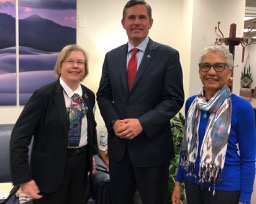 Reston-Herndon Lobby Corps member, Stephanie Abbott (right), on Capitol Hill during the October 17, 2019, annual Federal Lobby Day.
Lobby Corp Team after October 31, 2019, morning on the Hill. (L to R) Carol Bradley, Judi Polizzotti, Stephanie Abbott, Janine Greenwood and Patricia Derr.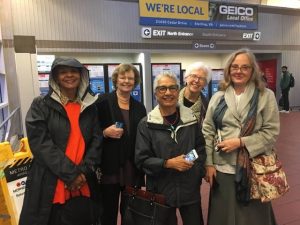 Lobbying efforts on behalf the BE HEARD in the Workplace Act (Bring an End to Harassment by Enhancing Accountability and Rejecting Discrimination in the Workplace Act)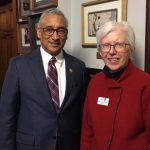 Branch President, Janine Greenwood, seen here lobbying Rep. Bobby Scott (D-VA 3rd Congressional District) on behalf of the BE HEARD in the Workplace Act. (2/27/20)
~~~~~~~~~~~~~~~
Co-Chair Contacts:
Mary Zane: mpz_06@verizon.net
Judi Polizzotti: judithpolizzotti@gmail.com