2019 BRANCH ACTIVITIES
Cherry Hill Cultural Arts Outing
February 28, 2019
Eighteen members of the branch met in Falls Church at Cherry Hill Farm to learn about the woman, Mrs. Blaisdel, who lived there and raised six children with her husband who owned and managed the farm. Following a talk from an excellent re-enactor and a full English tea, the group took a tour of the home filled with period-appropriate antiques and furnishings. Everyone had a wonderful time and a beautiful late February day.


New Member Orientation
January 28, 2019
Glory Days Restaurant – Fox Mill Center
The Reston-Herndon Branch Welcomed Our Newest Members at a Gathering at Glory Days Restaurant for light refreshments, presentations and written material from the officers and great conversation and hosted by Membership VP Ilene Banker.
New Members in attendance were Trish Derr, Alice Netherstone, Jean Ann Linney, Neseema Sait, and Saulat Pervez. The leadership team included President Dianne Mero, VP Membership Ilene Banker, VP Janine Greenwood, VP Programs Judy Skirbunt and AAUW VA Membership VP Cyndi Shanahan.
     2019 January Program
Guest Speaker, Lindsay Vajpeyi
Director of Education & Outreach, Memory Care Center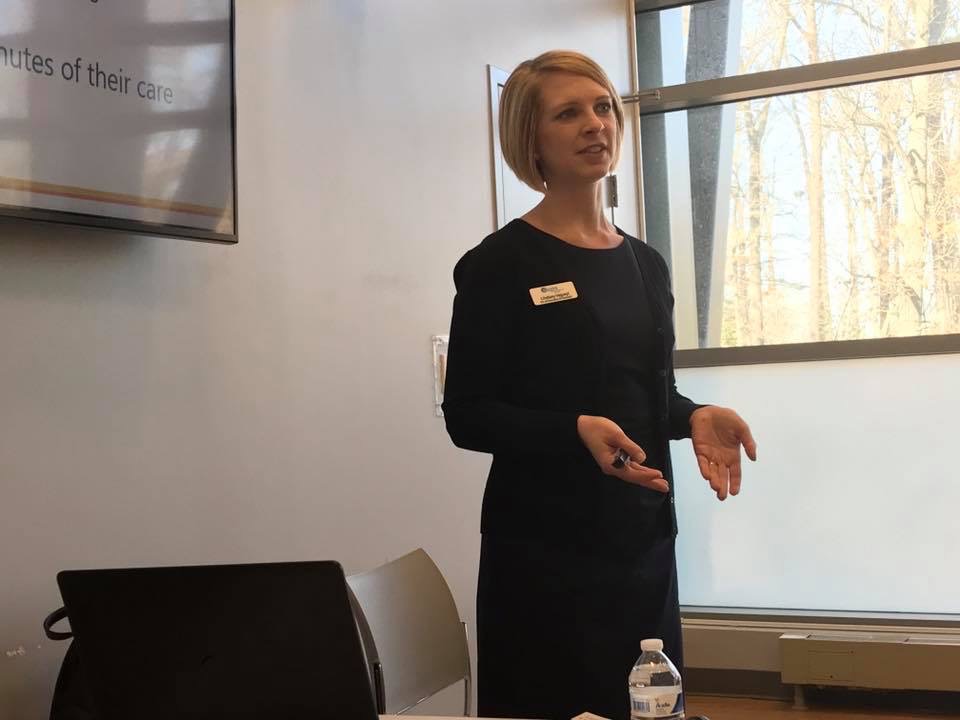 Ms Vajpeyi gave an interesting and informative talk on issues relevant to caregivers who are the primary support for individuals suffering from a variety of memory issues. Lindsay shared the numerous resources, including those available for free at the non-profit Memory Care Center.
Reston-Herndon Annual "Friends Giving" Luncheon and Scholarship Fund Raiser
at Mon Ami Gabi Restaurant in Reston Town Center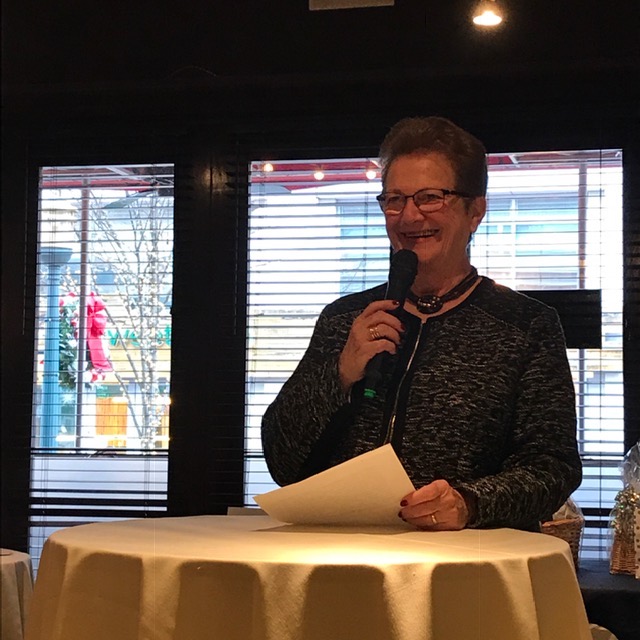 Chair of the event and our host for the luncheon, Branch VP for Programs, Judy Skirbunt, did a wonderful job organizing and carrying out this fun-filled and important event. Our most sincere thanks to Judy for an outstanding afternoon.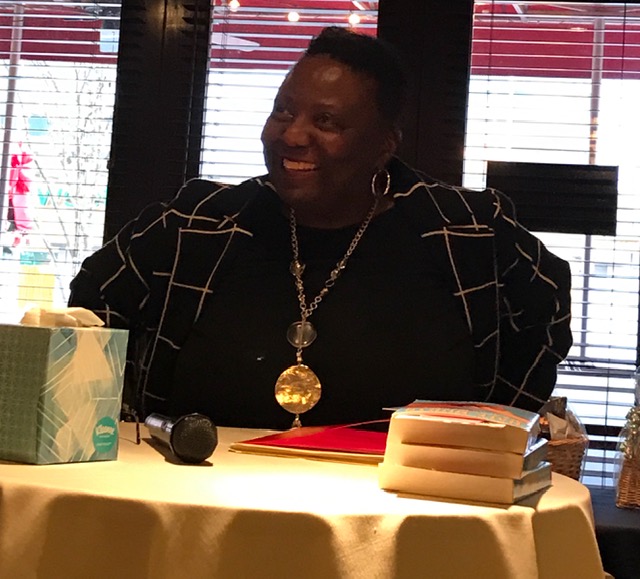 Professor Beverly Bennett- Roberts was our amazing guest speaker who spoke about diversity and inclusion, a very serious topic that she made entertaining and fun. Below are some of the many items from her personal collection that she shared with the branch.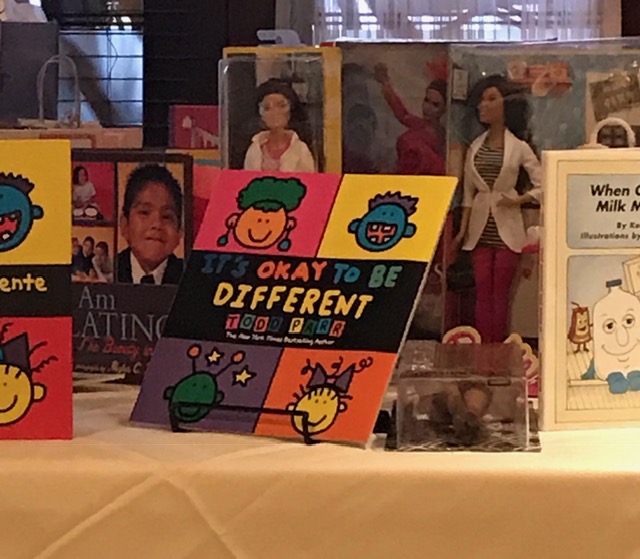 Our branch members and guests agreed that it was a wonderful afternoon.
Natahlia Bishop and Ilene Banker
Ellen Rugel and Judi Ornoff
Fran & John Lovaas and
Marilyn Silvey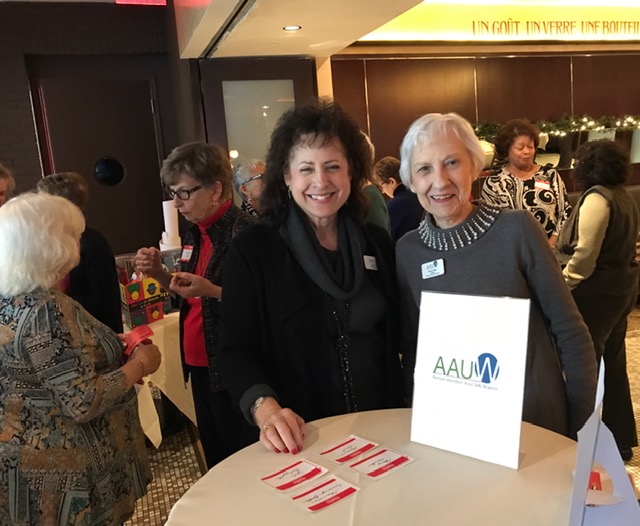 Ilene Banker and Dianne Mero
Below: Marion Stillson chats with our speaker,  Beverly Bennett-Roberts.
Above: L – R: Sharon Gilman, Ilene Banker, Judy Skirbunt, Judi Ornoff, Natahlia Bishop
Below: Janine Greenwood and Cyndi Shanahan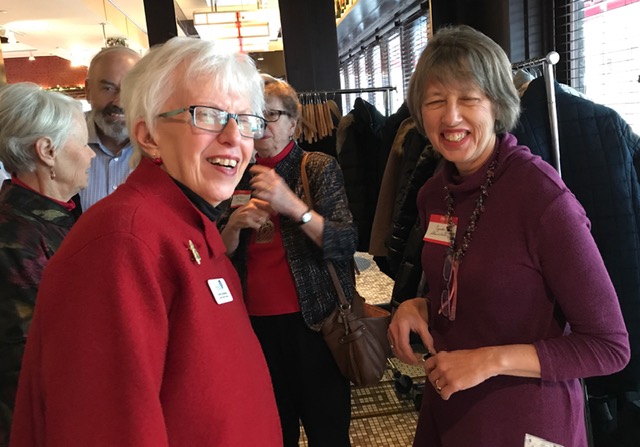 Below (Top): Mary Minter and Natahlia Bishop
Below (Second Row): Florrie Cohen, Joyce Sanders, Barbara Schell
Raffle Prizes Table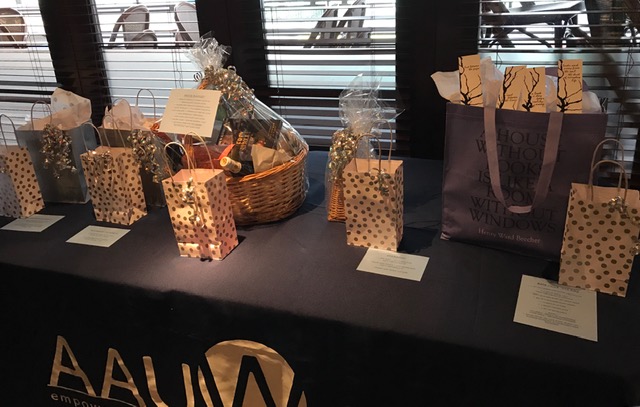 ( Dec 8, 2018, Mon Ami Gabi Restaurant)
Reston-Herndon Branch Recruiting at Chico's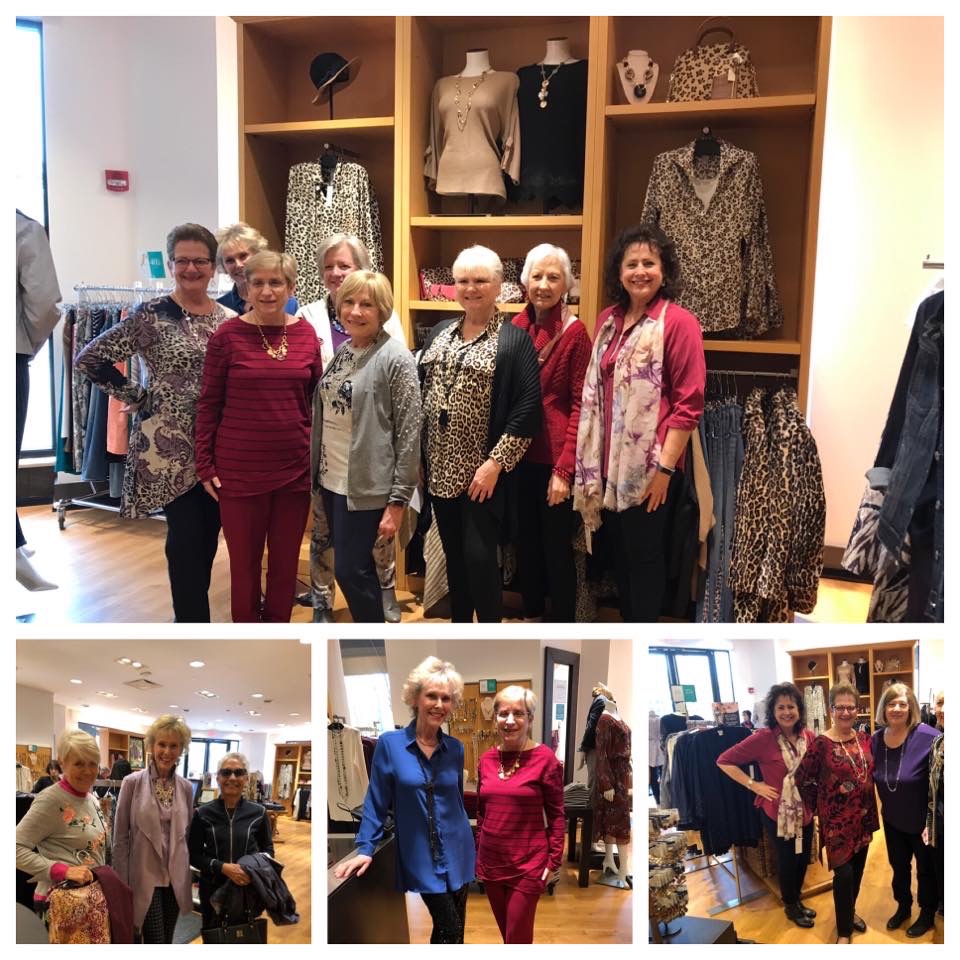 OurBranch members and leadership team model clothing from Chico's in Fairfax Corner at their membership recruiting event on October 27. We had a great turn out of members who purchased clothing, participated in raffles and brought friends who became members. Thank you, Ilene Banker (Far right, top photo), for all of your excellent planning and hard work to make this a special day for the Branch. (Oct 2018)
"Meet and Greet" at Mon Ami Gabi Restaurant
Reston Town Center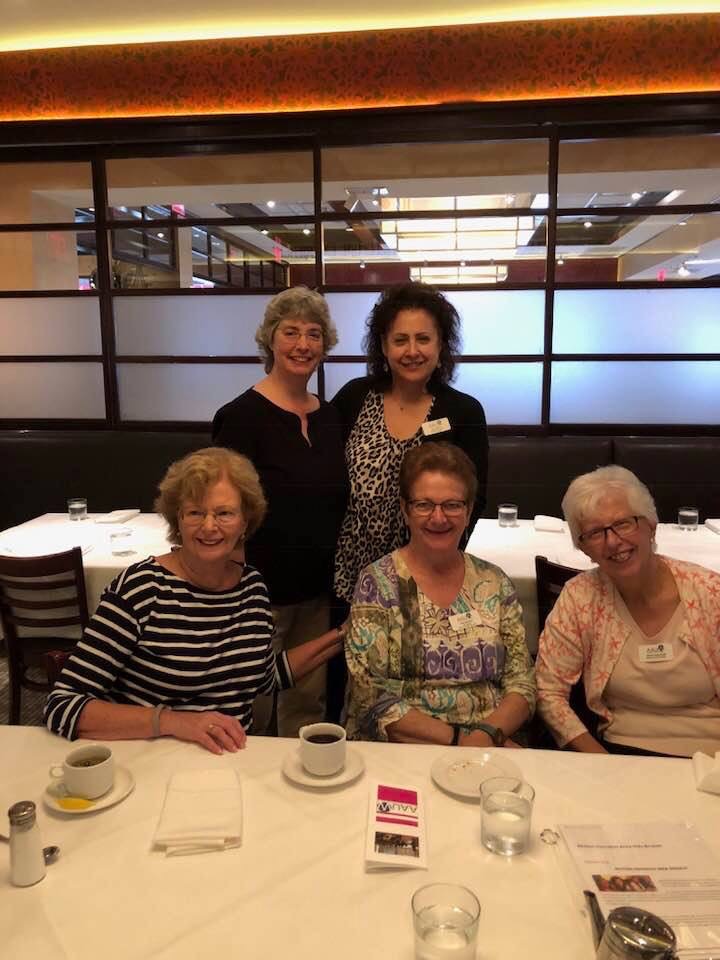 Branch Membership VP, Ilene Banker (above right) with the help of branch leaders, invites prospective members to continental breakfast at Mon Ami Gabi Restaurant several times a year. They  learn about the many activities of the Reston-Herndon Branch, receive a dessert coupon, compliments of Mon Ami Gabi, and can join on the spot. Pictured above is a new member, Ellice Stern (top left) with Ilene (top right), Judi Polizzotti, Public Policy Co-Chair (second row, Left), Judy Skirbunt, VP Programs (middle) and Janine Greenwood, Branch Vice President (right). (Sept 8, 2018)
Branch Executive Committee Lunch at Wildfire Restaurant, Tysons Corner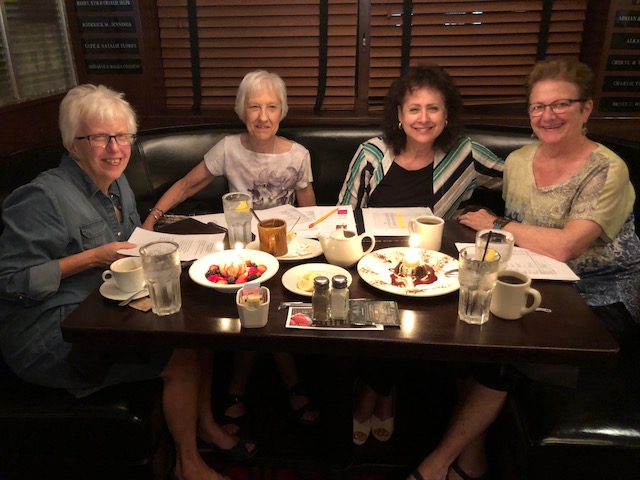 (L to R) Janine Greenwood (VP), Dianne Mero (President), Ilene Banker (VP-Membership) and Judy Skirbunt (VP-Program) try out the venue for the  50th anniversary Celebration in April 2019. Thanks to Marion Stillman and Judi Ornoff for finding such a nice location for this special event. (September 2018)
2018 October Program
Guest Speaker, Linda Black,
Investment Advisor Representative LifeMark Securities Corp.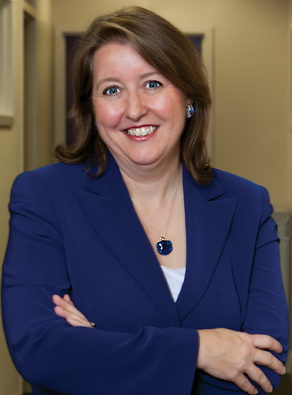 Financial Counselor Linda J. Black shared the "Seven Habits of Financially Confident Women" at our second membership program meeting of the year. Linda outlined the practices and habits that help women be confident about their financial futures. Attendees found her suggestions sound, her presentation professional and her delivery warm and caring.
First Membership Program of the Year
September 2018
Guest Speaker, Alison Friedman,
Candidate for the 10th Congressional District 2018 Democratic Primary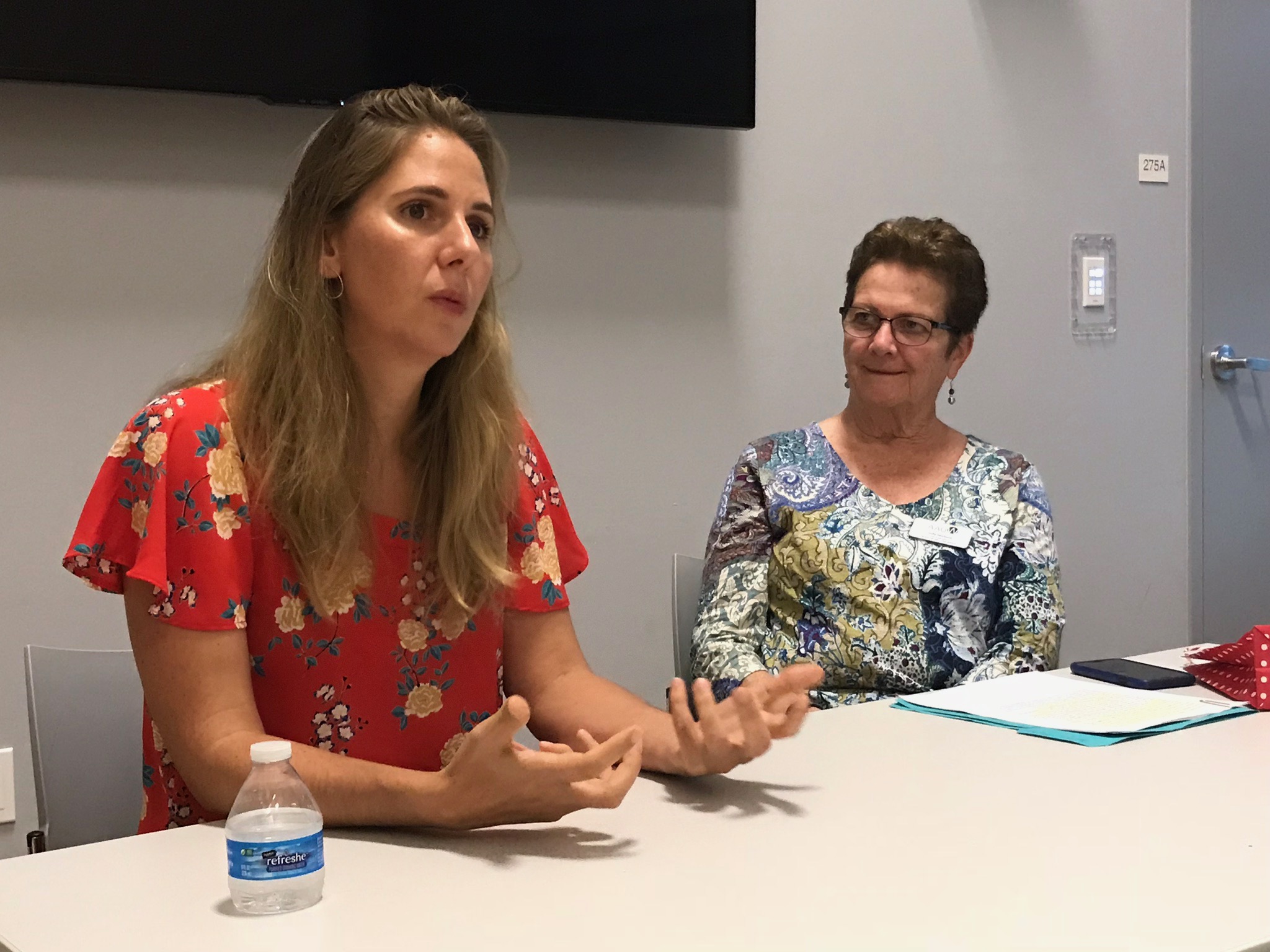 Alison and Judy Skirbunt, AAUW Reston-Herndon Program VP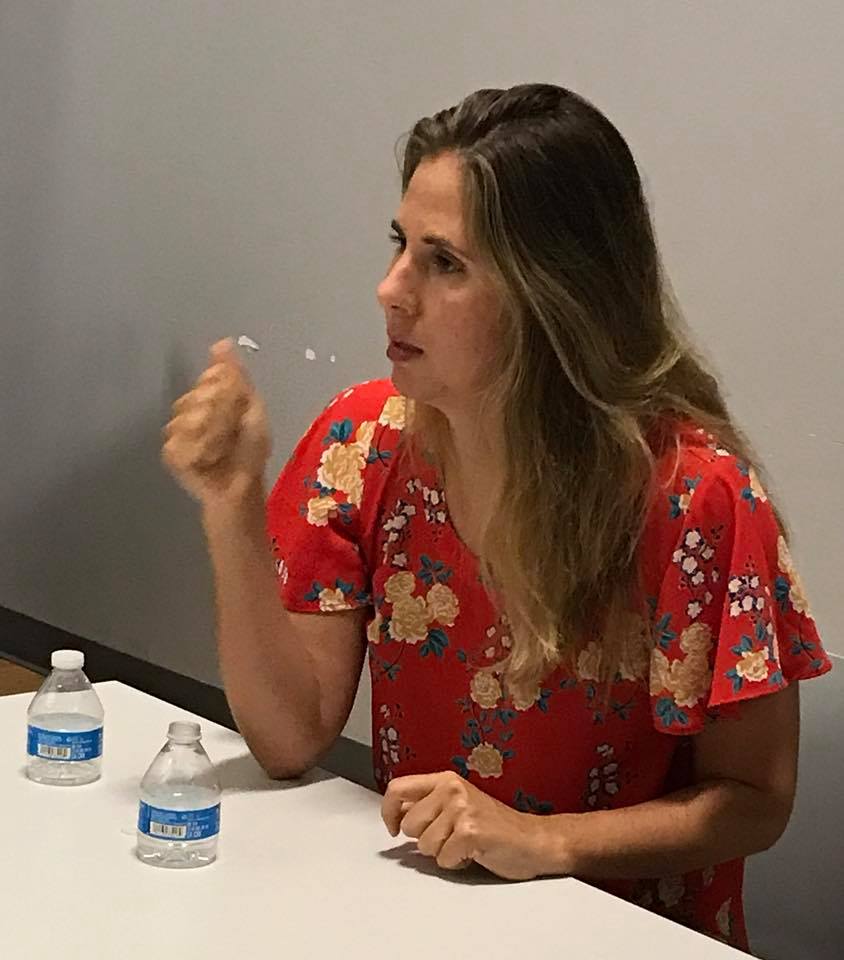 Alison shared many experiences and her personal feelings about the primary election and answered all of the questions asked by the members in a thoughtful way. We all learned a great deal from her remarks about both the difficulties and the wonderful opportunities associated   with running for a political office. Branch members were attentive to Alison's remarks which were wide-ranging and interesting.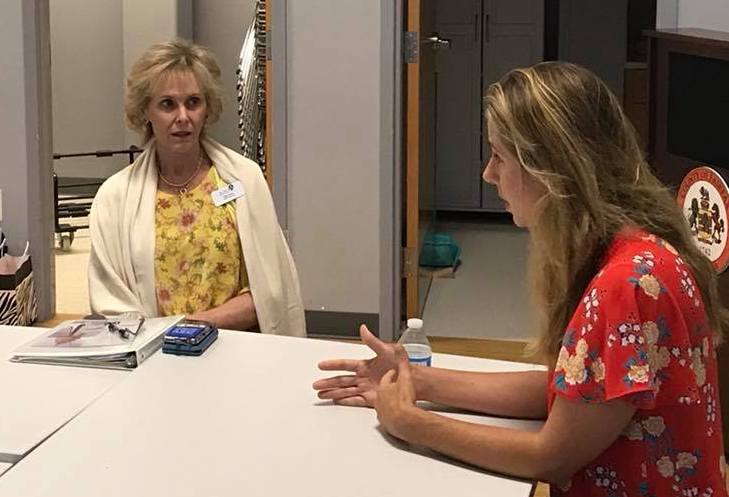 Alison answers a question from Mary Zane, AAUW Public Policy Co-chair.
THE LAST OF OUR 2017-18 BRANCH ACTIVITIES!
2018 Branch Annual Meeting and Dinner 6/14/18
The Annual Business Meeting and Dinner was held on June 14 at Red's Table in South Lakes. Our guest speaker, Mali Phonpadith, CEO of SOAR Community Network, gave an inspirational talk on her journey from Laos to America at age 4 with her family. Describing the difficulties – spiritually, emotionally, and physically – she experienced during this time and later, as she grew-up in the United States. Although the intense sun caught us by surprise on this beautiful spring evening on the patio, the event was nonetheless deemed a success.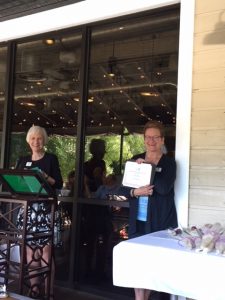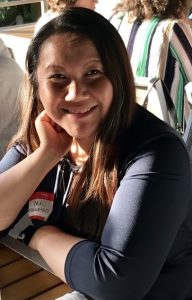 PHOTOS
Top Left: President Dianne Mero and Programs VP Judy Skirbunt conduct the Annual Business Meeting
Top Right: Guest Speaker, Mali Phonpadith
Below: Members enjoying dinner, the weather and friendships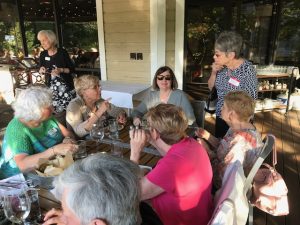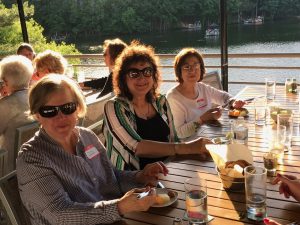 Branch Donation to BRAWS
Each guest at our annual dinner was asked to bring a donation for BRAWS (Bringing Resources to Aid Women's Shelters), an organization which then donates them to Homeless Women's Shelters, Schools and Transitional Placement homes for girls and women. They collect new bras (with tags on), new underwear, and boxes of Tampons and Pads, as well as children's items. The photo of our donations from this single event demonstrates the generosity of the women of the AAUW Reston-Herndon Branch.