2019-20 FALL BRANCH ACTIVITIES
Reston-Herndon Branch
Lobby Corps 
Lobby Corps members Carol Bradley, Judi Polizzotti, Stephanie Abbott, Janine Greenwood and Patricia Derr returning home by Metro after representing our branch lobbying on Capitol Hill last Thursday (10/31).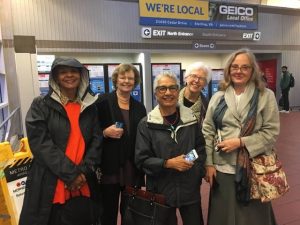 October 31, 2019
Reston-Herndon Branch
Meets Delegate Karrie Delaney
The  branch held its first meeting of the year on  Tuesday, October 15, at Cafe Montmartre at Lake Anne. Karrie Delaney, VA Delegate 67th District, presented the latest information about the upcoming Virginia legislative year and its challenges.  She also shared what it's like being an elected legislator and a "Mom" with young children and what means in today's world. The members in attendance found Karrie delightful and her presentation interesting and informative. A number of attendees stayed for a wonderful Cafe Montmartre lunch.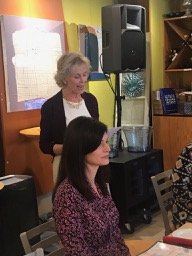 Public Policy Co-chair introducing Delegate Delaney (67th District) to the Reston-Herndon Branch members in attendance. (photo left)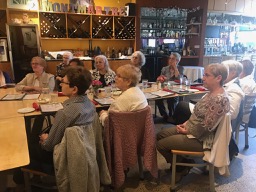 The attendees enjoyed Karrie's remarks and asked excellent question about the 2020 legislative session. (photo left)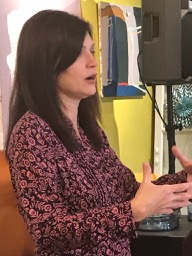 Ms. Delaney addressing the Reston-Herndon Branch.
(October 15, 2019)
Reston-Herndon Branch
Meet and Greet at Mon Ami Gabi Restaurant in Reston
The Fall Meet and Greet was held on Saturday, September 14, 2019 at Mon Ami Gabi Restaurant in Reston. Judi Polizzotti (below) hosted new members and individuals interested in joining AAUW along with branch representatives: Carol Flicker, Roberta Sherman, Natahlia Bishop, Mary Zane, Alyse Goldman and Dianne Mero.
DS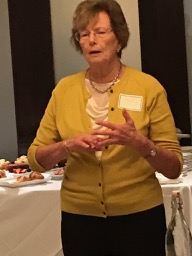 (Sept 2019)
SUMMER 2019 BRANCH ACTIVITIES
"Real Housewives of Jamestown" – Lecture, Tour & English Tea
Green Springs Park, Alexandria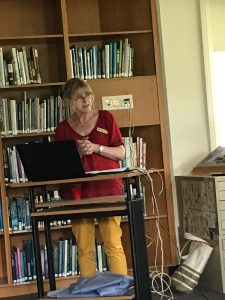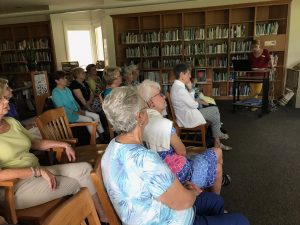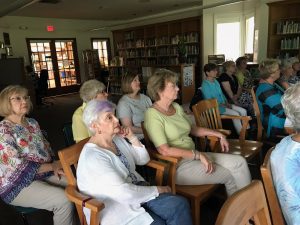 The informal "talk" and slide show involved a description of the first "bride ship" (1619), which arrived in Jamestown bringing single English women to the colony to marry and start families helping to stabilize the community. Through stories and slides we learned about them and discovered that many found enrichment, empowerment and liberation in their new home. Everyone then enjoyed a wonderful English tea and learned a little bit about the history of the house on the beautifully kept gardens on the property. (August 14, 2019)
Chico's Member Recruitment Event
July 13, 2019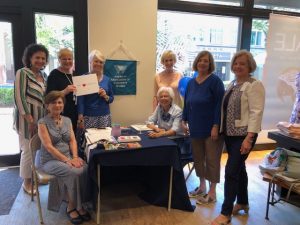 A big thank you to Ilene Banker, VP-Membership, for organizing this membership drive and to Roberta Sherman, Fran Lovaas Mary Zane, Carol Flicker, Joyce Sanders and Janine Greenwood, Branch President, for volunteering their time and energy to help recruit new members to our Reston-Herndon Area Branch. (July 2019)