2019-20 WINTER BRANCH ACTIVITIES
Fairfax County Commission for Women
Women's History Month 2020 Reception and Recognitions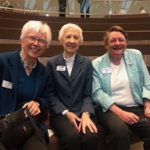 AAUW attendees to the 2020 reception, celebrating Valiant Women of the Vote, included (L to R): Janine Greenwood, President Reston Herndon Branch; Dianne Mero, Reston Herndon Branch; Sandy Lawrence, State VP – Programs, Woodbridge Branch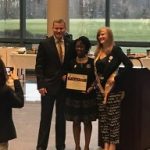 Ms. Cypriana McCray, President, National Council of Negro Women (NCNW) Reston-Dulles Section, one of our branch partners, was recognized by FFC CFW.
(3.10.20)
Joint Branch Meeting
Reston-Herndon AAUW & Dulles Section NCNW

The AAUW Reston-Herndon Branch offered a Diversity, Equity and Inclusion (DEI) awareness program, presented by Lottie M. Spurlock, Director of Equity, Loudoun County Public Schools, on Saturday morning, March 7, at Hunter Woods at Trails Edge Retirement Community in Reston. Ms. Spurlock shared her county's DEI plans which are currently being developed with community, staff and student input and her valuable insights regarding this topic. The interactive discussion was lively and interesting and participants went away with many things to reflect upon.
The branch wishes to thank Lottie for coming out to spend a weekend morning with us, as well as the Trails Edge staff for hosting the program in their beautiful amphitheater in this brand new facility and for providing our group a delicious breakfast of quiche and fruit salad served with coffee and tea followed by a tour of the building for those who were interested.
This was another great meeting of learning and friendship thanks to the teamwork of our Program Co-Vice Presidents, Carol Flicker and Roberta Sherman, our Membership VP/Diversity Coordinator, Ilene Banker, and President Janine Greenwood.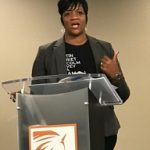 Speaker Lottie Spurlock
Director of Equity, Loudoun County Public Schools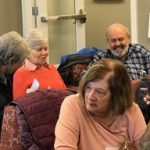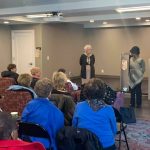 Janine Greenwood, President AAUW Reston-Herndon Branch (L) and Cypriana McCray, President, NCNW Dulles Section (R)  address the participants.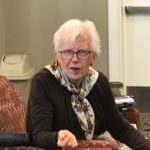 Janine Greenwood, President
Reston-Herndon AAUW
(3.7.20)
Lobby Corps
February 27, 2020
Bringing an End to Harassment by Enhancing Accountability and
Rejecting Discrimination in the Workplace Act (or the BE HEARD in the Workplace Act)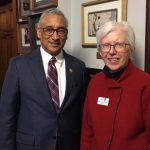 Branch President and Lobby Corps Volunteer, Janine Greenwood, seen here lobbying
Rep. Bobby Scott on behalf of the BE HEARD in the Workplace Act.
This bill sets forth provisions to prevent discrimination and harassment in the workplace and raises the minimum wage for tipped employees. Specifically, the bill (1) makes it an unlawful employment practice to discriminate against an individual in the workplace based on sexual orientation, gender identity, pregnancy, childbirth, a medical condition related to pregnancy or childbirth, and a sex stereotype; (2) prohibits employers from entering into contracts or agreements with workers that contain certain non-disparagement or nondisclosure clauses; (3) prohibits predispute arbitration agreements and postdispute agreements with certain exceptions, and (4) establishes grant programs to prevent and respond to workplace discrimination and harassment, provide legal assistance for low-income workers related to employment discrimination, and establish a system of legal advocacy in states to protect the rights of workers. (2.27.20)
Branch Outing to Library of Congress
February 3, 2020
Arts & Culture and Program Vice-Presidents, Roberta Sherman and Carol Flicker, planned a wonderful visit to our national Library of Congress in Washington, DC, on February 3. The group of nearly 20 members toured the suffragette exhibit "SHALL NOT BE DENIED: Women Fight for the Vote,"  a Centennial Exhibition which features original manuscripts and stunning images of Suffrage movement from Seneca Falls to the 19th Amendment. With the assistance of our excellent docents, we heard the story of the largest reform movement in American history with documents and artifacts from the women who changed political history 100 years ago. Following the tour, members had time for fellowship and catching-up on the news over lunch at the Longworth Building. It was a great day for all!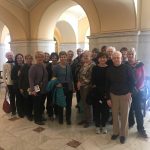 (2.03.20)
AAUW-Chico's Fashion and Recruiting Event
Thank you Parvin Samadi, Ann and Fiera at the Fairfax Corner, VA, Chico's store for hosting our AAUW-Chico's Fashion and Recruiting Event on January 18. Our AAUW Reston-Herndon Branch models enjoyed first choosing, then modeling, three fabulous outfits with appropriate jewelry coordinated by the outstanding Chico's consultants. Refreshments, raffles and discounts were enjoyed by all who attended. Brava to Chico's for supporting our non-profit organization whose mission is to empower girls and women and thank you to all who came by to support the organization's mission.
Chico's Fun! Thank you Joyce, Janine, Carol, Judi, and Fran!
Branch President Janine Greenwood and VP Membership Ilene Banker at
Chico's Fashion & Recruiting Event – January 18, 2020
AAUW Virginia Lobby Day
Maureen Dwyer, Judy Heimlich, Stepanie Abbott and Janine Greenwood
at AAUW VA Lobby Day in Richmond Jan 15, 2020



2019-20 FALL 

BRANCH ACTIVITIES
Branch Meeting – AAUW Update and Member Tea
Our branch held an informal tea in December to catch up on AAUW National, State and Local news and to provide and opportunity to socialize with other branch members – delicious tea and sweets were provided. Thank you to Roberta Sherman, again, for her gracious hospitality in opening her home for this event.
Dec 16, 2019
2019 Annual Friends Giving Luncheon
The Reston-Herndon Branch held its annual luncheon, scholarship fund-raiser and social on Saturday November 16, 2019,  at Red's Table in the South Lakes Shopping Center in Reston with over 50 members and guests in attendance. The group enjoyed an afternoon with friends dining on delicious food, a raffle with wonderful baskets full of goodies as prizes and an interesting and entertaining talk delivered by Ms. Julissa Marenco Otero, Assistant Secretary of Communications and External Affairs at the Smithsonian Institute.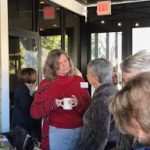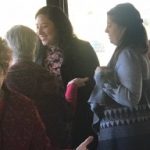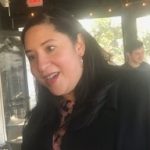 Our speaker:
Ms. Julissa Marenco Otero,
Assistant Secretary of Communication
and External Affairs – Smithsonian Institute
Reston-Herndon Branch
Lobby Corps 
Lobby Corps members Carol Bradley, Judi Polizzotti, Stephanie Abbott, Janine Greenwood and Patricia Derr returning home by Metro after representing our branch lobbying on Capitol Hill last Thursday (10/31).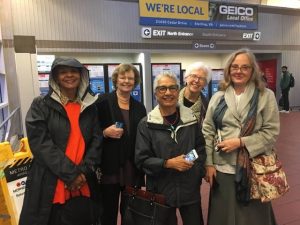 October 31, 2019
Reston-Herndon Branch
Meets Delegate Karrie Delaney
The  branch held its first meeting of the year on  Tuesday, October 15, at Cafe Montmartre at Lake Anne. Karrie Delaney, VA Delegate 67th District, presented the latest information about the upcoming Virginia legislative year and its challenges.  She also shared what it's like being an elected legislator and a "Mom" with young children and what means in today's world. The members in attendance found Karrie delightful and her presentation interesting and informative. A number of attendees stayed for a wonderful Cafe Montmartre lunch.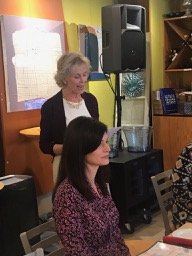 Public Policy Co-chair introducing Delegate Delaney (67th District) to the Reston-Herndon Branch members in attendance. (photo left)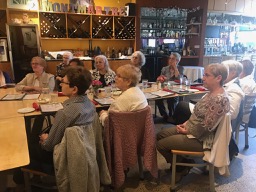 The attendees enjoyed Karrie's remarks and asked excellent question about the 2020 legislative session. (photo left)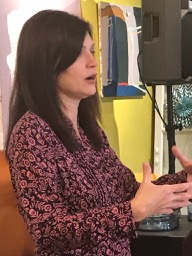 Ms. Delaney addressing the Reston-Herndon Branch.
(October 15, 2019)
Reston-Herndon Branch
Meet and Greet at Mon Ami Gabi Restaurant in Reston
The Fall Meet and Greet was held on Saturday, September 14, 2019 at Mon Ami Gabi Restaurant in Reston. Judi Polizzotti (below) hosted new members and individuals interested in joining AAUW along with branch representatives: Carol Flicker, Roberta Sherman, Natahlia Bishop, Mary Zane, Alyse Goldman and Dianne Mero.
DS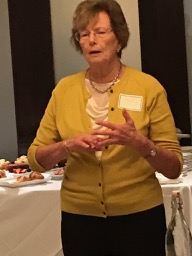 (Sept 2019)
SUMMER 2019 BRANCH ACTIVITIES
"Real Housewives of Jamestown" – Lecture, Tour & English Tea
Green Springs Park, Alexandria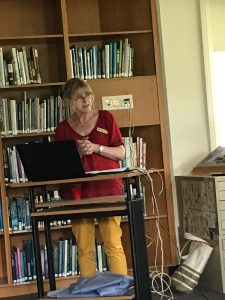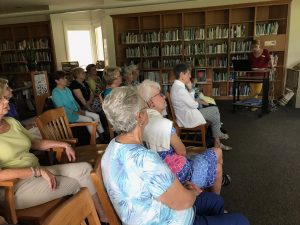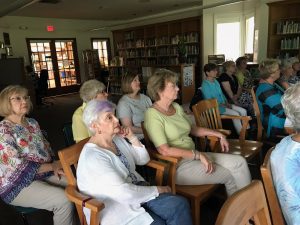 The informal "talk" and slide show involved a description of the first "bride ship" (1619), which arrived in Jamestown bringing single English women to the colony to marry and start families helping to stabilize the community. Through stories and slides we learned about them and discovered that many found enrichment, empowerment and liberation in their new home. Everyone then enjoyed a wonderful English tea and learned a little bit about the history of the house on the beautifully kept gardens on the property. (August 14, 2019)
Chico's Member Recruitment Event
July 13, 2019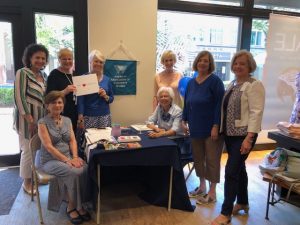 A big thank you to Ilene Banker, VP-Membership, for organizing this membership drive and to Roberta Sherman, Fran Lovaas Mary Zane, Carol Flicker, Joyce Sanders and Janine Greenwood, Branch President, for volunteering their time and energy to help recruit new members to our Reston-Herndon Area Branch. (July 2019)