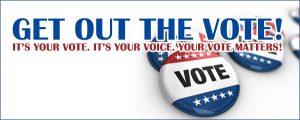 Voter Registration
Our Branch works closely with the League of Women Voters Fairfax Area to support their Candidate Forums for races in this area. Members help staff events which encourage local residents to become aware of the races, candidates and to vote in elections.
VA General Election November 6, 2018
Voter Registration Deadline – Monday. October 15, 2018
(online, postmarked or in person)
Get Out the Vote
In 2017,  volunteers from our branch held a successful 'Get Out the Vote' ('GOTV') event on the NVCC – Loudoun Campus. At this event, ninety-three voter registration packets were distributed to students. Each packet included the registration form, information on how to complete the form, and a stamped envelope addressed to the appropriate State Elections Board based on the student's county of residence.
This election cycle, a URL established by the state, will enable students to register on their own cell phone, tablet or computer devices. In addition, paper registration to be mailed to the Board of Elections may also be utilized if the registrant prefers.