Sunday, June 10, 2018, marked the 55th anniversary of the Equal Pay Act of 1963. Upon signing the bill into law, President John F. Kennedy proclaimed that it "affirms our determination that when women enter the labor force they will find equality in their pay envelope." AAUW members at the time fought for this important law and stood with the president as he signed it. Half a century later, we continued to stand with President Barack Obama as he commemorated the 50th anniversary of this landmark law.
We have stood; we have marched; we have engaged new generations of activists who organize in ways we could never have dreamed of in 1963; yet, we are also still waiting to find that equality in our pay envelopes. The gender pay gap is real, and it's not going away with the status quo. While the gap has narrowed since the passage of the Equal Pay Act, progress has largely stalled in the 21st century.  When the bill was enacted, the pay gap on average was 59 cents.  Today, women still only make, on average, 80 cents on the dollar as compared to men, and it's even worse for women of color who feel the impact of multiple and intersecting forms of discrimination.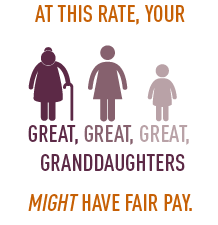 The gender pay gap develops early in women's careers and then compounds through retirement. Controlling for factors known to affect earnings such as education and training, marital status, and hours worked, research found that college-educated women still earn 7 percent less than men just one year out of college — even when they have the same major and occupation as their male counterparts.
Tired of waiting for equality in your pay envelope? Let's give the Equal Pay Act something it really needs on its 55th birthday: an update. AAUW has been on the frontlines to close the wage gap from the beginning and we will be there to end it once and for all.
AAUW has committed to closing the wage gap by 2030 and there are a few ways we can do it together:
–   Urge Congress to Pass the Paycheck Fairness Act
–   Support the Federal Pay Data Collection and Employer Fair Pay  Practice
–   Advocate at the State and Local Level
–   Strengthen Your Negotiation Skills
–   Be a Leader
Wage disparities are real, pernicious, and they harm families' financial stability. We must fully enforce our current civil rights laws, as well as employ new tactics in order to close the gap once and for all.  We've learned a lot in the last 55 years when it comes to how to make pay equity a reality and it's time to put those lessons into practice. We should no longer be waiting to find equality in our pay envelopes. We need to get it for ourselves.
Be an advocate for Pay Equity!
AAUW provides direction on advocacy through its "Two Minute Activist" program.

Use this link by clicking on the phrase> Write a letter .  You can easily become an advocate by contacting your legislator online, in real time.